It's day one of the launch for PlayStation VR and Oasis Games have covered with it's first VR title, Ace Banana.
Ace Banana is a first person arcade archery game where players wield a bow to protect their banana stash from a host of marauding monkeys. The light-hearted shooter features a mix of over-the-top fun supported by native VR controls, which allows players to quickly get into the action.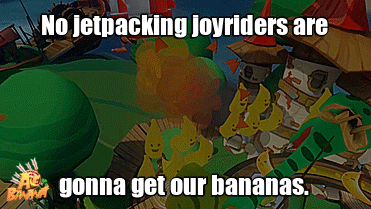 In the game, players assume the role of a skilled Banana Archer, the world-famous protectors of innocent bananas. In opposition are hordes of mischievous monkeys who are dressed in a variety of different costumes and approach you using different techniques and moves that add to the surprise factor and excitement of the game.
As these meddling monkeys arrive in waves through 16 stages, players must use the PlayStation Move controllers to mimic drawing, aiming and shooting their bow with an arsenal of quirky arrows ranging from plungers to rubber fish and even cute pandas! Players will need to stay alert and be aware of their virtual surroundings as when all their bananas are stolen, the game is over!
Time to grab myself a VR set once it's available!!