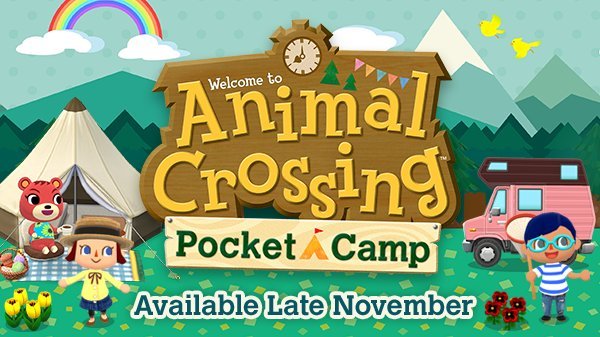 Earlier today, Nintendo has announced the their upcoming mobile title, Animal Crossing: Pocket Camp. The game is coming in November for both iOS and Android.
The mobile version for Animal Crossing is pretty much similar to the original console version. The game is scaled down to suit the mobile environment but you'll still be able to enjoy all the fun activities such as Fishing, Foraging, chatting with your animals and a whole lot of customization.
Players will take on the role of a Manager in a Camping Site. You're tasked to invite all kinds of animals into your campsite and fulfill their request. After fulfilling the requests, you'll be rewarded with materials to craft furniture and decorate your Camping Site.
Here is the list of countries Nintendo is planning to launch the game in November for the first wave:
Australia
Austria
Belgium
Brazil
Bulgaria
Canada
Croatia
Cyprus
Czech Republic
Denmark
Estonia
Finland
France
Germany
Greece
Hungary
Ireland
Italy
Japan
Latvia
Lithuania
Luxembourg
Malta
Mexico
Netherlands
New Zealand
Norway
Poland
Portugal
Romania
Russia
Singapore
Slovakia
Slovenia
South Africa
Spain
Sweden
Switzerland
Thailand
United Kingdom
United States