Konami has announced the soft launch for their upcoming mobile game, Castlevania Grimoire of Souls. Players can now download the game from Canada's App or Play Store.
Based on the famous Castlevania series, Castlevania Grimoire of Souls is a side-scroller Action RPG. Players will take on the role of Alucard, son of Dracula. Your objective is to defeat Dracula's army of demons and bring peace to the world.
The game is best played on your mobile device instead of an emulator as controls can get a little complicated. A lot of the movement and skills require you to flick your screen thus making it difficult to execute on a emulator. Memorizing which direction to flick is also important as you don't want to waste precious cooldown time on casting the wrong skill.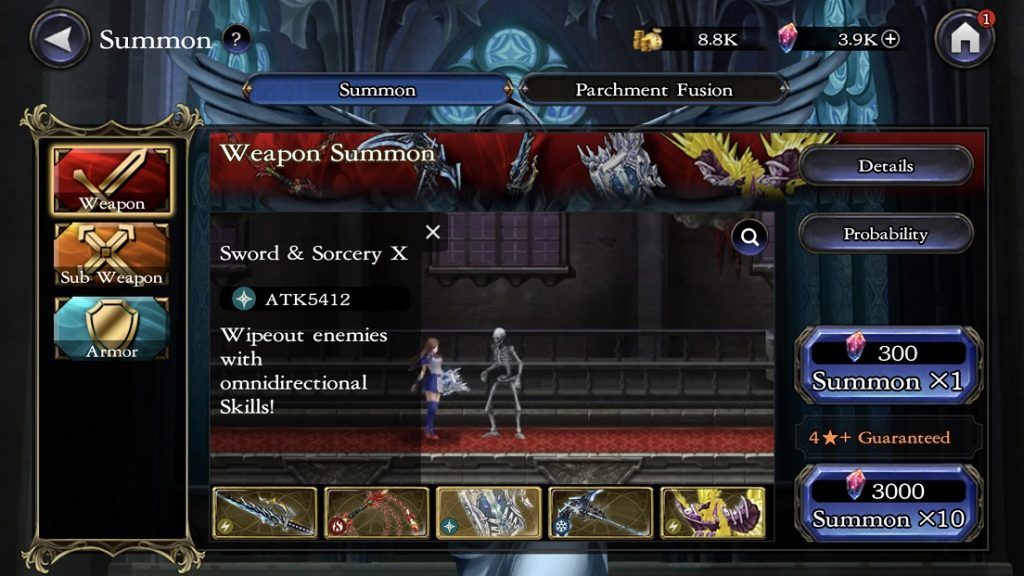 Gacha is separated into Main weapon, Sub Weapon and Armor. I find that the game is little too greedy as there are 3 different equipment parts to gacha and all of them are on different banners. Fortunately, you can still craft decent items by collecting parchment in the game.
Character wise, you can unlock more by progressing through the main story campaign. These characters include Simon Belmont, Charlotte, Shanoa, Maria and more to come! Each of these characters have their own unique skill set and weapons thus making Gacha even more difficult!
Note: Gems don't carry over different OS device!
Publisher
Konami
Platform
Android Link
iOS Link (Please find it on Canada Store, I don't have the link now)
Apkpure