I remember writing about the Japanese version of Crayon Shinchan Runner 2 years ago because I have a few crazy female friends who are addicted to the butt-flashing Shinchan. Guess what? The English version is finally here after 2 years and boy… I bet we'll be playing this on our next meetup.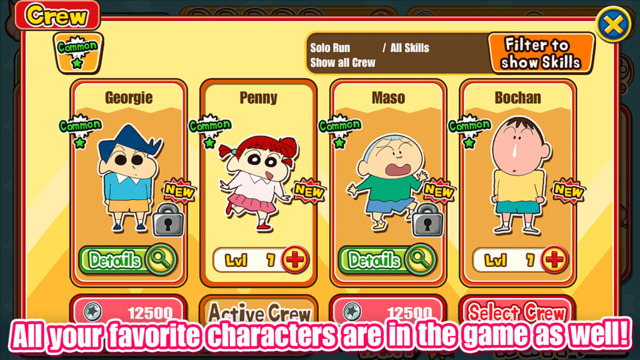 Similar to most runner games, Players are suppose to collect sweets, dodge obstacles and gather power-ups to run as far as possible. Unlock different costumes or characters to gain special power that can you help you run further.
Features:
● Controls can't be more simple! You just need to touch any spot on the screen!
● As Shinchan vigorously dashes onward, dodge obstacles and gather sweets by tapping the screen!
● Gather medals as you dash on, and many amazing things will be waiting for you!
● It's possible to collect new costumes and gather your buddies from the Kasukabe Defense Corp!
● Compete in real time through "Battle Run", and obtain items through reward raffles!
Publisher
Bushiroad Inc.
Platform