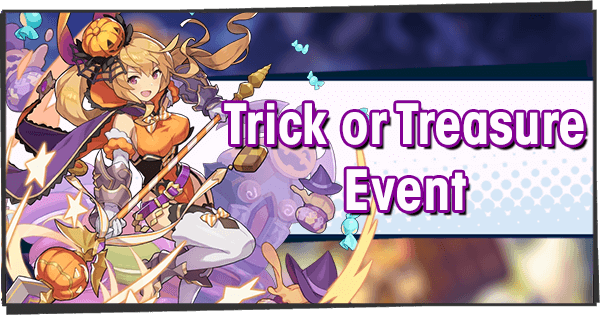 All you need to know about the event!
Loyalty's Requiem
Duration
10/17    (Wed) 15: 00 ~ 10/26 (Friday) 14: 59 JPT
New Characters
Halloween Elisanne
Halloween Althemia
Halloween Edward
New Dragons
Halloween Silke
Wyrmprints
There are 5 different Halloween themed Wyrmprints and each give different amount of buffs to the event currency you obtain.
Wyrmprint
Snake-o' Lantern
Tricker Treat
Of Tricks and Treats (5 Star)
50%/100%
Plunder Pals (5 Star)
25%/50%
25%/50%
Witch's Kitchen (5 Star)
50%/100%
Silke Lends a Hand (4 Star)
25%/50%
Pumpkin Pail (3 Star)
25%/50%
Currency
Currency
Use

 

 

Snack-o'Lantern
– Obtain as drops after completing any Event Quest, Event Boss, Ex Boss and Event Daily
– Does not drop in Challenge Battle
– Amount varies with difficulty
– Use for upgrading Sweet Retreat Facility
Tricker Treats
– Obtain after completing any Event Quest, Event Boss, Ex Boss, Event Daily and Challenge Battle
– Amount varies with difficulty
– Accumulate to unlock Tricker Treats reward
Jack Chocolates
– Chance to drop after completing any Boss, Ex Boss, Challenge Battle or Event Daily
– Use in Event Trades
Candy Basket
– Chance to drop at Ex Boss or Challenge Battle
– Use in Event Trades
Event Details
Complete Boss Stage to obtain Snack-o' Lantern to upgrade Event Facility
Complete Challenge Battle to rack up your Tricker Treats points and gather Trade Currencies
Complete Daily Event Dungeon for Gold
Progression
Complete Story quest
Tackle Boss Stages – To collect Snack-o'Lantern to upgrade Facility
Challenge Challenge Battle – You do not need to kill the boss to obtain the rewards that was previously dropped
Alternate between Boss Stage and Challenge Battle
Depending on your Adventurer and items equipped, you may need at least Facility level 15 to kill the Special Boss (I got my first kill at Facility level 16 with 1 second left), and double that for the Challenge Battle
Boss Guide (Ex(Special) Mode)
Attack Pattern
Details
– Normal Attack
– Swings Lollypop and hits enemy within mid-range
– Throws a boulder on targeted spot
– Spins around and hit anything within the radius
– Jumps and slams at the area
– Charge and hits anything infront of it.
– You can move behind it and attack.
– Does this frequently in Overdrive state
– Calls a Menace level friend during the first
Since the Special stages in this event is done solo, the most important "weapon" in this game is actually the level of your Facility and how geared your "Main Adventurer" is.
You will need to be very familiar with Pumpkin's attack pattern and avoid getting hit
You Facility must be as high level as possible
Max out your Main Light Adventurer as much as possible