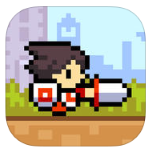 Seems like 8-bit games are the in thing now. Here's a new 8-bit RPG game called Drancia published by URARA-WORKS. The game is out now globally on the App and Play store.
Drancia is a 8-bit side-scroller RPG game which is made to feel like the olden-days Arcade game. There are over 50 different characters for players to collect and at least 20 over BGM from the Nintendo FC era.
Here's the description from the store:
This action RPG features an amusing cast of characters and has an arcade-like feel!
Chain combos to rack up coins and level up through the skill tree!
Defeat hordes of monsters and unravel the mystery of Drancia!
・Retro-style, cute pixel art graphics!
・Smooth controls and loads of extras to enjoy!
・Unique bosses in every stage!
・Over fifty different types of characters to play as!
・A killer soundtrack of over 20 vintage, Famicom-style chiptunes!
*Drancia was originally released in 2008 by Skipmore as a web-based game entitled Drancia Survival. Now it's been powered-up for smartphones!
Publisher
URARA-WORKS Co., Ltd.
Platform
Android Link
iOS Link
Language
English