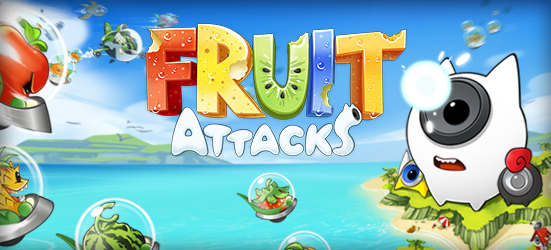 En Masse Entertainment, publisher of TERA – today announced the release of its first mobile title: Fruit Attacks. Available free on iOS, Android, and Amazon Kindle Fire devices across North America and Europe, Fruit Attacks finds players defending Earth from an incoming fruit invasion. Featuring a unique "hook-shot" mechanic,Fruit Attacks offers a refreshing take on the traditional arcade shooter.
With an intuitive two-finger control system, players can easily take rapid shots or test their skills with more advanced arcing hook shots. Shaking the device also adds special full-screen attacks to help seize victory when the invasion intensifies with stronger and more challenging enemies, including giant fruit bosses. By learning to vary strategies on the fly, players will crush hordes of enemies into fruit juice as they master powerful combos, timed attack levels, defense-mode stages, and boss battles.
Players start with a single hero in early battles, but may eventually acquire six different heroes and dozens of minions that provide unique powers and abilities. Players can earn, combine, and utilize a wide variety of bonuses — including minion options and power-ups — to build customized teams to suit their personal play styles. With 180 total stages across three episodes and two game modes, plus frequent updates coming in the future, Fruit Attacks will challenge fans with its tasty and delicious offerings.
I'm not sure why En Masse decided to make casual game instead of the usual RPG Genre but if you're in for something casual and click to play (without Internet), download the game now!
Publisher
En Masse Entertainment
Platform