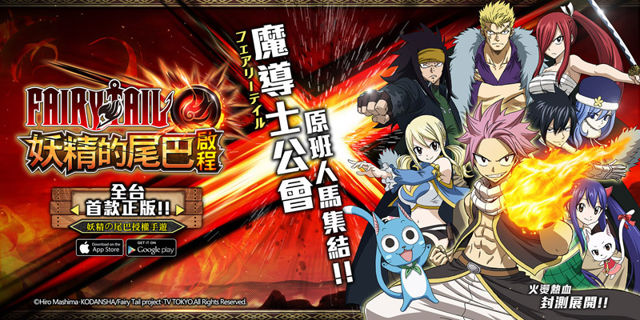 DeNA Hong Kong has announced the Close Beta test for their latest mobile game, Fairy Tail: Depart (妖精的尾巴:啟程). This is the first official game that is to be released in Hong Kong and Taiwan with full IP rights.
Before I start talking about the game, I would like to clarify that this is a Close Beta Test with wipe.
The story of the game begins at the end of Tenrou Island Arc where the core members of Fairy Tail were defeated by Acnologia. Players will pick up from the X791 arc, seven years after they were defeated by Acnologia.
Fairy Tail: Depart is a simple slingshot game played very similar to Monster Strike. Players will slingshot their characters over the map and deal damage to enemies when your character touches the enemies. You can also create combos by coming into contact with your own allies.
There are a few events running during the Close Beta stage which encourages participation as they will in turn reward you during official launch.
Event 1 – Top-up Event
Top up any amount during Close Beta and you'll get a 200% rebate when the game launches.
Event 2 – Login Event
Login every day for 7 days to receive many ingame goodies. There are other sign-in events running concurrently that will help your game during Close Beta.
Event 3 – Ranking Event
During Close Beta, boosted prizes will be given away to players who participate in the ranking event. Also, when the game transitions into official launch, you will be rewarded with awesome prizes depending on your ranking.
Publisher
DeNA Hong Kong