Reality Squared Games together with Delta Duck Studios have announced the soft launch of their upcoming mobile game, Monster Chronicles. Players from Singapore, Malaysia, Indonesia, Australia and New Zealand can now download the game from your local App or Play Store.
Monster Chronicles is a simple yet unique turn-based strategy game. With a party of 3 monsters, Players will battle it out on a 3×3 board similar to the Tic-Tac-Toe board. Each turn, Players can move any of your monsters in a cross direction to either engage or move away/towards the enemy.
The monster skills in the game are activated differently from most Monster Breeding games. There is no Portrait or skill icon for you to tap to activate the skills but instead, your monster's skill can be activated by aligning your monsters in a straight line either horizontally, vertically or diagonally. Additionally, there are other ways to trigger your monster's skill if you fulfill certain requirements.
In terms of the game art and monster design, I believe the developers are influenced by Japanese mobile games. Even the UI for the game is what you commonly see in a Japanese Mobile game. The monsters appear to be chibi-fied, even the fierce ones look cute rather than, well… fierce. However, as of this post, I only gotten 3 3* monsters thus I can't say for sure if all of them are the same.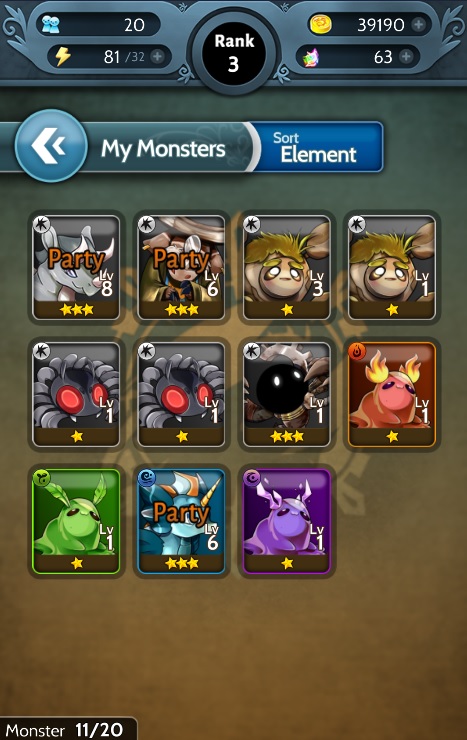 Monster Chronicles is developed by Delta Duck Studios, a new mobile games developer from Singapore. As some of you might know, I'm always a supporter for local products so I really hope you guys can give them some love.
The game is currently soft launch in Singapore, Malaysia, Indonesia, Australia and New Zealand. To kick start your game, you can enter the below 2 codes and receive some valuable prizes.
#PLAYMONCHRON
#PLAYBETA
Publisher
Reality Squared Game
Platform