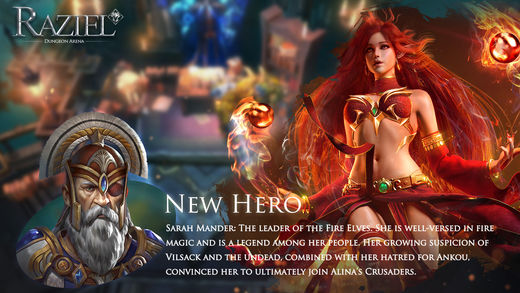 Raziel: Dungeon Arena has received its first meaningful update while opening up to iOS gamers in Singapore and New Zealand. The first major update to Raziel introduces a new hero, offers a new gem inlay system, and brings a new level of customization to hero appearances.
Raziel: Dungeon Arena is an unique mobile Action RPG which plays differently from the usual mobile ARPG we see in the market. What I really like about the game is that there are no auto mode in the game and the auto-targeting system is kept to a very small radius. This means that the game is played more similar to an actual PC ARPG than those you find in the App/Play Stores. Although this can be a problem with people who have fat fingers (like me), but I feel that it makes the game more engaging than the usual Auto ARPGs.
At the start of the game, there are only 3 characters to choose from. However, you can unlock more characters either through determination (play more) or the usual IAP (money). Players of Raziel will first notice the new version features a new hero: Sarah Mander – The Elf of Fire and Fury. Sarah Mander gives players a new caster with more of a pure DPS focus compared with the frost mage Alina. While Alina's frost spells are perfect for taming mobs in PvE, Sarah's devastating fire attacks should suit PvP action quite well.
Players will also be delighted to see that their hero's appearance now changes based on their soul rank level. Before each hero, with exception to their weapon, looked almost exactly the same. Hero appearances are expected to receive an even greater overhaul when Indra introduces hero skins.
Raziel: Dungeon Arena is also adding a gem inlay feature to gear. Players can now further customize their builds based on the gems they choose to utilize. Gems can be fused together to produce attributes unique to each specific gem combination.
Raziel: Dungeon Arena is currently only available in Singapore, New Zealand and Australia for iOS Players. However, the game will slowly open up to more countries and hopefully, for Android users too.
Publisher
Indra
Platform