Netmarble Games has announced the released of their latest Endless Runner Mobile game, Rush N Krush! The game is now available worldwide in 154 different countries App and Play Store.
Rush N Krush is an endless runner cum action racing game bundled together to give players the adrenaline rush! Like most endless runner games, players will avoid obstacles and collect power-ups to boost your ride. However, at the end of the race, you'll have to "kill" off the boss by shooting them down with your car's weapons. It's like those Airplane shooter games in a Racing Car game view.
The objective of the game is to avoid the cars infront at the very last second so that you'll be able to gain combos which will boost the speed of your car. Occasionally, you'll obtain different kinds of power-ups to help you in your race. For example, you can gain the invincibility power and just ram through all the cards in front or, you can obtain the "matrix" type power up where your car will slow down significantly when it tailgate behind the front car, this helps you to avoid them timely to gain a combo point.
As mentioned above, there are several modes in the game such as the usual time-attack mode, the 1v1, 4v4 player battle and also the Boss Mode.
Features:
Rush!
Draft behind cars in traffic and avoid dangerous obstacles to get a speed boost
Krush!
With exhilarating boosters and unique car skills, fling all obstacles out of your way for more points!
Endless Runner: Drive faster and farther in Race Mode! Destroy everything in your path! Get rewarded based on your rank among players worldwide!
Action: Race against bosses in Head 2 Head! The more difficult bosses drop better rewards!
Racing: Play against other players from all over the world in real-time races! Battle 1 on 1 in Head 2 Head! Race to the top in Grand Prix, a 4-player race mode! In Friendly Match, compete amongst 4 friends and come out on top!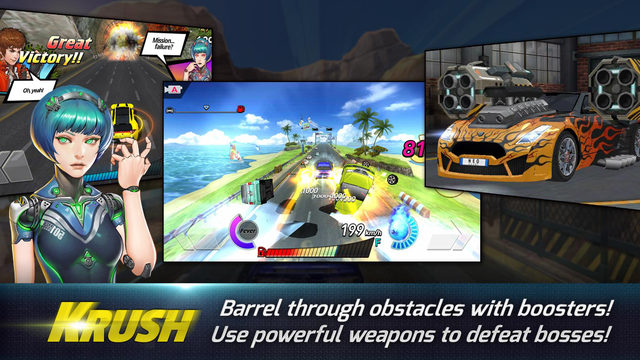 Rush N Krush is now available on both App and Play Store. Pimp up your ride and see you on the tracks!
Publisher
Netmarble Games
Platform