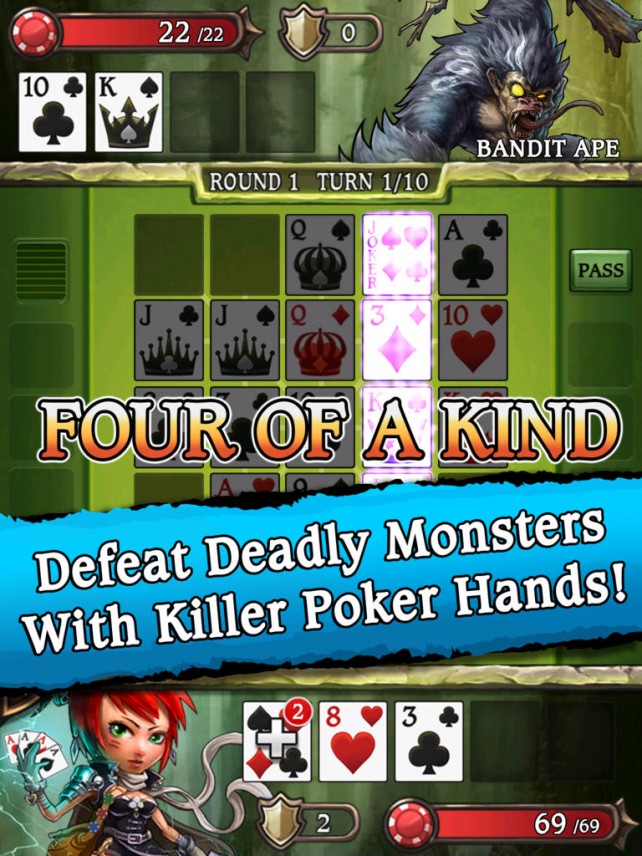 Konami has officially released Swords & Poker Adventures, its free-to-play reboot of Gaia's hit Sword & Poker RPG and poker hybrid games.
Gameplay
S&P Adventures challenges players to create the best five-card poker hand on a 5×5 board with 3×3 river cards in the middle. Players are required to place 2 cards on the opposite ends of the river cards (similar to Othello) to form a poker hand and it will deal damage to the monsters accordingly. Players are able to increase the damage by equipping better weapons or magic skills, or reduce damage taken, by equipping shields.
Here's a general description on their App store page:
Defeat monsters and other opponents by creating the best poker hands in this addictive puzzle adventure masterpiece!

Experience a deep combat system that's easy to pick up and delivers endless fun. Take turns against your opponents in making the best 5 card poker hand from a shared board of cards. Swords and Poker Adventures features an enormous library of epic weapons, shields, and magic needed to fight against the strongest of monsters and save the world from the Chaos realm. 

FEATURES:

I. EASY TO LEARN, BUT DIFFICULT TO MASTER
Can you create 5 card poker hands strong enough to win matches in this simple but deceivingly deep puzzle game?

II. AN INCREDIBLE & VAST WORLD
Explore stunningly crafted zones as you slay deadly monsters along the way.

III. TONS OF UNIQUE & UNLOCKABLE ITEMS
Unlock powerful new weapons, shields, and magic upgrades. Use them to finish off your opponents!

IV. HELP FRIENDS IN NEED
Get help from friends with Daily Bonus Cards.

V. ENGAGING & ORIGINAL STORYLINE
Travel the beautiful and treacherous lands in the heroic battle against the Chaos monsters! 
I've played quite a bit of the game and indeed, as you progress, the game get's more challenging and not only do you have to form a good hand to deal big damage to the monster, you have to also take into consideration of the Monster's hand and prevent it from dealing big damage to you.
The game is currently available on the App store and the Android version will be released soon.
Company
Konami
Platform
iOS Link
Android – Coming Soon
Language
English