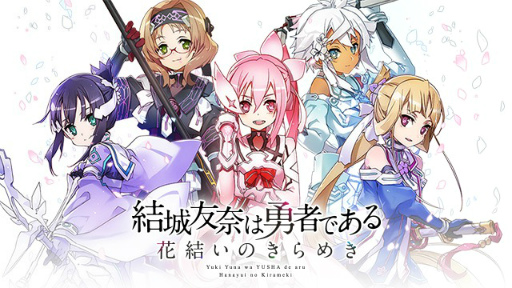 Kadokawa and AltPlus have announced the launch of their latest mobile game, Yuki Yuna is a Hero: A Sparkling Flower (結城友奈は勇者である 花結いのきらめき). Players can now download the game from Japan's App or Play Store.
Yuyuyui (short-form) is a game based on the Visual novel / Anime, Yuki Yuna is a Hero. The game plays a little similar to Chain Chronicles where you'll be defending your base on a 6×3 battlefield.
Besides that, there are some dating simulation mechanics in the game where Players are required to increase the relationship with each waifu.
Apparently, the game is backed by a strong cast of voice-actresses:
| Character | Voice Actor |
| --- | --- |
| Yuuki Yuuki | Haruka Terui |
| Mori Togo | Suzuko Mimori |
| Inubouzaki style | Yumi Uchiyama |
| Inubaki Tree | Tomoyo Kurosawa |
| Miyoshi Natsu | Jang Sao |
| Sumi Washio | Suzuko Mimori |
| Minowa silver | Yumi Hanamori |
| Sonoko Nogi | Hanazawa Kana |
| Nogi Waka | Ayaka Ohashi |
| Doi Ball child | Honma Kaede |
| Kyo Iyo | Kondo Rena |
| County thousand views | Suzuki Aina |
| Takashima Yuina | Haruka Terui |
| Shiratori Utano | Aki Suwa |
| Akihabara Yuka | Saika Senbonki |
| Konnagani jujube | Yamamoto hope |
| Kamigatori Hinata | Mari Takano |
| Mizuo Fujimori | Maria Naganawa |
Publisher
AltPlus
Platform