Klab Global in collaboration with Microsoft, has recently announced the launch of their latest Strategy Mobile game, Age of Empires World Domination. Currently, the game is made available in specific countries (Play Store has more countries). If you like the AoE series, read on to find out more!
The all-time favorite Age of Empires real-time strategy series with over 20 million copies sold worldwide can now be played on your smartphone. DOMINATE the WORLD in this next generation mobile Real Time Strategy game. Age of Empires World Domination is played similar to the original Romance of the Three Kingdoms game. Players will pick from one of the 8 available civilizations and start gathering resources to expand your kingdom. You'll also be able to collect Legendary Heroes in your command.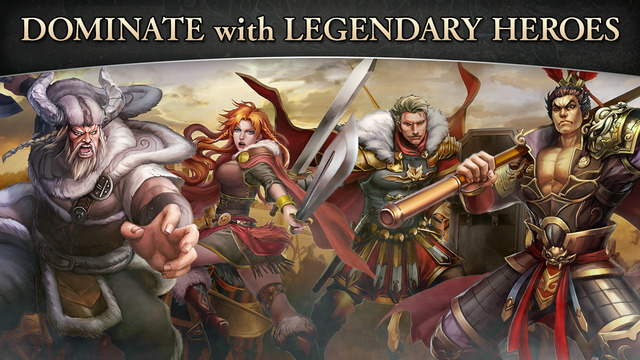 FEATURES
・A Revolutionary Real-Time Battle System
– Manage your battle resources, deploy your troops and wage war with your opponents on the battlefield – all in real-time!
– Adapt to the tide of battle and respond to your enemies in kind with the best tactics
– Explore the map and lay waste to your enemies hidden in the fog-of-war
・ Your Empire, Your Legend
– Limitless Empire Customization, create your own empire with structures from history's greatest civilizations.
– Choose your own progress with fan-favorite Technology Trees available with every empire!
– Recreate historical empires by mastering all technologies of a single empire or…
– Grow your original empire and create the finest army from selection of the world's greatest civilizations!
Dominate the World with HEROES from the Greatest Empires
– With over 100 legendary heroes to choose from, let your heroes take charge
– Heroes include: Joan of Arc, King Arthur, Oda Nobunaga, Cao Cao, Knut the Great and more!
– Team up your heroes with distinct troop types to create the ultimate battle unit!
・ Power of the World is Within Your Grasp
– Manage your empire and deploy advanced tactics in battle with simple & intuitive touch gestures.
– Tap, drag, swipe your way to victory!
– Become a pro by starting with simple guide missions!
– Rule the world effortlessly by enabling AUTO mode and letting the A.I. fight your way to the top
Age of Empires World Domination is now available in certain country. If you're and iOS user, you can get it from Singapore's App Store while Android users can grab them from apkpure.
Publisher
Klab Global
Platform