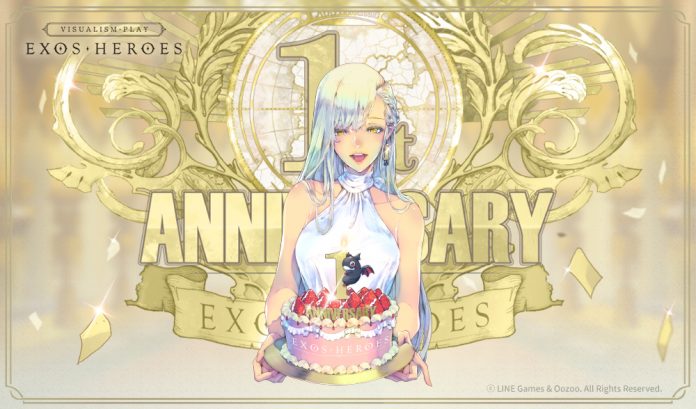 LINE Games Corporation announced that its mobile RPG Exos Heroes, the winner of 2020 Korea Game Awards' 'Technology/Creative Award' in the 'Character' category, is carrying out special events to celebrate its 1st anniversary in Korea. Exos Heroes will reward all players with 700 Xes, free 110 Recruits and Fated Hero Dorka along with her new Fatecore.
Until November 25, players participate in a Surprise Quiz, in which the answer for the quiz, '191121', the game's launching date in Korea, will be the code for 700 Xes. And for three weeks until December 10, players can participate in free 110 Recruits event. Also, Exos Heroes' fan-favorite Fated Hero Dorka – clad with a new Fatecore – will be given as a reward of the 7 Day Gift event.
Besides Dorka, players can also collect four Heroes just by logging into the game until November 30. The Heroes include Leger and Nero, plus Fated Hero Kylock and Mahar, all clad in Fatecores inspired from Hanbok, Korea's traditional dress with a long history.
News story episode update: Chapter 14
In Chapter 14, scheduled to be updated in November 26, the matriarch's long chase will come to an end as Neomi decides to unlock her final weapon to defeat Zeon and Mahar. Check out the final episode at Brunn, to see if Zeon and his friends manages escape to Saint West, where the clue to defeating Schufraken lies beneath.
Major convenience updates: Inventory improvements and Automatic Daily Quests
As a means to meeting players' frequent requests, Exos Heroes will introduce a number of convenience improvements through the November 26 update.
The convenience features include improvements in Inventory management: With the update, the equipped weapons and armors will be excluded from count, enlarging the Inventory space. Moreover, six daily quests such as conversation, exploration and battle will be done automatically with a single touch.
For more information, please head to the official Facebook Page.