Nextfloor Corporation and ShiftUp had just released one of the most anticipated mobile game, Destiny Child (데스티니 차일드) on the Kakao platform. If you're into old-school mobile Collectable Card Games, you can now download the game from Korea's App or Play Store.
Destiny Child is an old-school typed CCG similar to Million Arthur or Devil Maker: Tokyo. What's special about the game is that it uses the Live 2D Technology where each character in the game is formed by over 200 different parts to give them a 3D vibe. This is why the characters looks so "bouncy".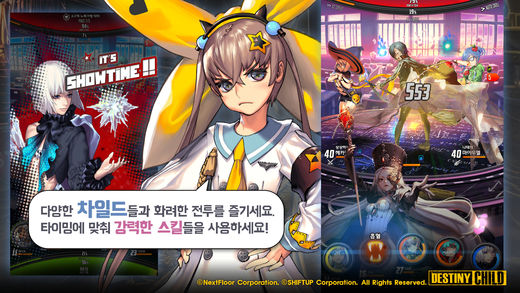 Gameplay is pretty simple. Characters automatically deal damage periodically, while players can cast the character's skill once it's charged up. There is also a Drive Skill system similar to Limit Breaks and Fever Mode where you can spam your character's skill for a limited time.
It's been a long time since I've played an old-school mobile CCG and I believe Destiny Child has the visuals to attract old-time CCG Players back to the genre.
Note: You need the Kakao App to play the game. 
Publisher
Next Floor Corp
Platform