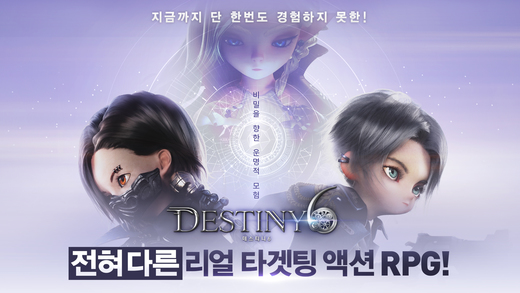 Netmarble has announced the launch of their latest mobile game, Destiny6 (데스티니6). The game is now available on Korea's App and Play Store!
Destiny6 is an Action RPG that may seem similar to most Korean games but has it's own unique gameplay. Unlike most automated games, Destiny6 requires some strategic movement from your units thus you'll be able to steer your party with a virtual joystick and move away from danger.
Skills can be cast by tapping on the skill icons or you can drag the skill icons and aim at a targeted area to maximize your skill's reach. This way, you can be sure that all enemies are covered and no skills are wasted.
Another important combat feature in the game is the "Break" system. Players can use "Break" skills or summon your forth party member to "interrupt" the boss's cast time. When done well, the Boss will be interrupted and "stun" giving you free time to unleash all your prowess on it.
Graphically, the game looks gorgeous. I managed to download the game on BlueStacks2 and recorded the gameplay video through it. As some of you might know, mobile games don't usually look good when played on an emulator but Destiny6 is definitely on a different level.
For now, the game is only available in the Korean stores but!!!!!!
Yes! This was what I've gotten when trying to play the game with my iPhone. Currently, I believe you cannot play the game on iOS unless you change your IP to Korea. That aside, I believe Netmarble will localize and English version for us in the near future. Till then, you can play the game on your Android device or emulator.
Publisher
Netmarble
Platform