Colopl, has recently ninja soft launch their number one mobile game, Colopl Rune Story aka White Cat Project in Japan. The game is currently available in the Philippines, Indonesia and Thailand (NO Singapore T.T) App and Play Store. Read on to find out more. 
In case you guys didn't know, White Cat Project is one of the hottest game in Japan and the TW/HK/Ma region. It is also one of the first mobile games to promote one finger gaming. What makes this game so special is it's chibi style 3D characters and weapons which was rare back then where most ARPG games go for more "cool" looking and realism kind of art style.
It was also one of the first mobile games that came up with the 4 player co-op system. One of the difference between the Global version and the Japanese version is that the portraits in game are now in 3D. They seem to have optimize a lot of the graphics for the global version too.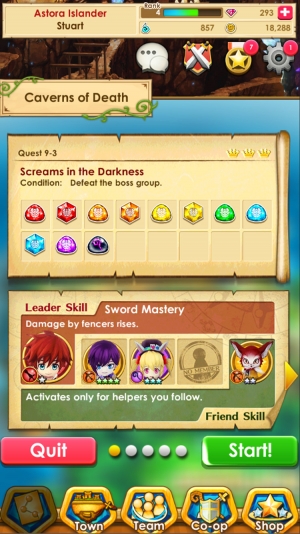 Description
* Engaging Story Quests *
Complete quests that will reveal Rune Story's mystery with hours of intriguing gameplay.

* Real-Time Co-Op Action RPG *
Perform magnificent combo attacks that will surpass regular puzzle-solving, dragon-fighting games and control all movements, actions, and skills from the palm of one hand.

* Over 100+ Unique Characters to Play *
Unlock hundreds of characters and weapon combinations within six classes – Fencer, Lancer, Warrior, Brawler, Sniper, Mage.

* Fight Epic Bosses With Your Guild *
Become the strongest guild! Accumulate Guild Points in co-op quests to obtain special rewards.

* Build Your Own Unique Town *
Build and upgrade your town to harvest resources to level up and train your team.

Legend has it that runes imbued with ancient magic fell from seven elder runes in the sky centuries ago, but few remain. Airships fly the skies between the flying island Astora and the world's other countless islands. Use the wondrous rune compass to guide your path as you attempt to uncover magical runes and journey to The World's End, a place no one has ever reached.

Create your own Rune Story now with hundreds of heroes ready to battle at your fingertips! Venture on an epic adventure with your friends, make your own society, and experience a deep action-role playing game! Become a powerful hero and unravel the mystery that all begins with a talking cat…
The game is soft launched in Indonesia, Thailand and Philippines. If you can't wait to try the game, you can download the apk file or make a itunes account for the respective countries.
Publisher
Colopl NI, Inc.
Platform