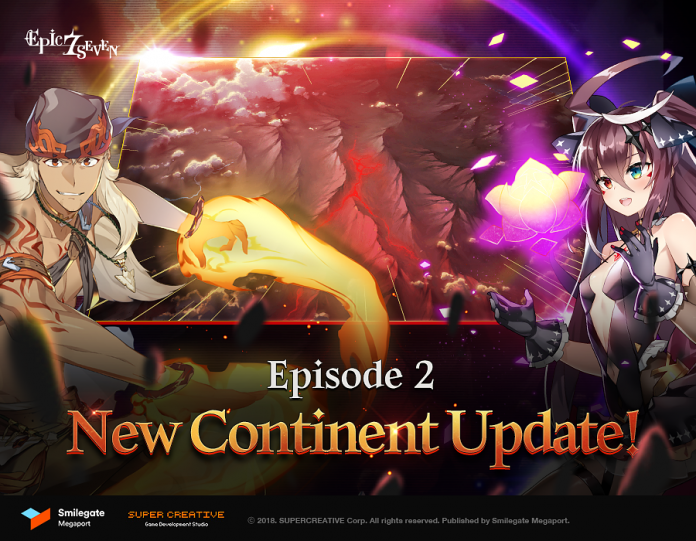 Epic Seven, a turn-based mobile RPG developed by Super Creative and published by Smilegate Megaport, officially released "Episode 2: Godkiller" in an update on June 13.
"Episode 2: Godkiller" is the first new episode added to Epic Seven since its launch, bringing with it the new continent Cidonia for players to explore. This update has debuted a wide variety of new content, from added new Heroes and stories taking place in Cidonia to larger-scale changes to the game, including an increase to the maximum account level and other fresh updates to existing game mechanics.
In the June 13 update, the first two chapters of Episode 2 became available—Jerdun Borderlands and Crimson City Meldrec—in which the stories of Luluca and Khawazu take place. As the story progresses in future updates, more chapters and Heroes will become available.
Additionally, not only has the maximum account level been increased from 60 to 65 but it is also now easier to purchase higher level Equipment from the Secret Shop, allowing further enhancement of Heroes. World difficulty stages have also been moved from Adventure mode to the new Side Story "Unrecorded History," enabling players to focus on the story in Adventure mode. Finally, the difficulty of Urgent Missions has been reduced while rewards have been increased, allowing players to make their Heroes even stronger.
The new Heroes Khawazu and Fallen Cecilia join Epic Seven with this update as well. Khawazu is a Fire elemental Warrior who appears in the story as the main character of the chapter "Crimson City Meldrec." He boasts high utility thanks to his ability to inflict debuffs such as burn and unhealable. Fallen Cecilia is a new Moonlight Hero capable of providing continuous barriers to all allies, greatly increasing the stability of the team.
In celebration of this update, Smilegate is hosting the in-game event "Yufine's Scavenger Hunt," which will be available until June 27. Using the currency earned by completing daily missions, players can hunt for treasure and earn great rewards, including Covenant Bookmarks. After spending certain amounts of event currencies, players will also be rewarded with rarer items, including an Epic Catalyst Chest.