Ujoy had recently released a brand new mobile MMO called Eternal Crusade. The game is currently available for download in the App and Play Store for Players from Singapore and Malaysia.
Eternal Crusade is a medieval 3D MMO mobile game where Players travel to the wondrous homelands of the elves, dwarves, gnomes, orcs, cyclops and others, in order to collect 27 powerful rings. The 27 Magic Rings represent 27 special skills that Players will need to collect, in order to save the world.

The game features many unique game modes and systems, such as the free equipment system, where equipment is obtainable only via killing monsters. The free trade system, in which players can freely trade items without price restrictions. A powerful and diverse social system, including Emperors and civilians, masters and apprentices, guilds and teams among others. And a balanced and exciting world boss system where bosses can be found across the world map and refresh all day round.
What's unique about the game is that, all high quality equipment are farmed by killing bosses and trading amongst players. These big bosses will only appear when you team up with your friends to fight. In other words, Eternal Crusade brings back the original PC MMO element where good items should only be farmed through gameplay and not bought through cash!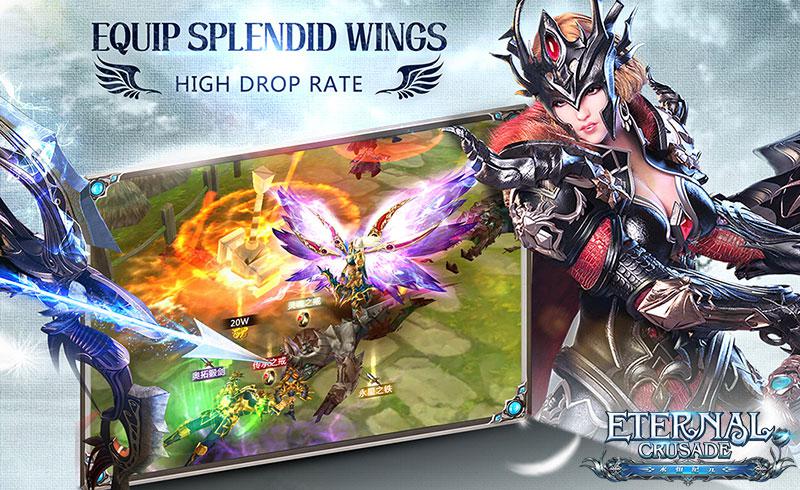 A big update is slated to launch this December and if you're worried that there isn't enough content, there will be a brand new level 260 dungeon called the Void Land, which will be unlocked on the 23rd of November! Players can collect tons of Lapis by defeating Gnomes and Orcs which can be used to make epic equipment!