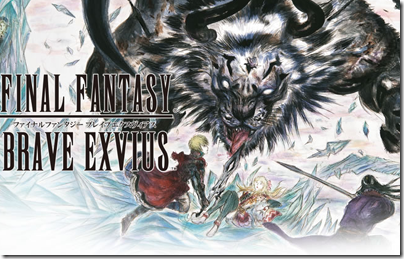 So after 9 hours of re-rolling and yet to get any 5* characters, I've decided to stick to a 4* healer and put together this basic guide for you guys!
Before I start, here are a few disclaimers:
1. I can't read Japanese so these translations are based on the many past Japanese Game experiences that I've played thus the text are loosely translated.
2. As the accounts are bind to your device's number, you will need to transfer your current account to another device if you want to reroll.
3. Here's what you should look out when re-rolling: 5* character > any * Healer > 4* that can be upgraded to 5* > 3* that can be upgraded to 5* > I give up, will take anything.
4. I will be updating this guide constantly as I get to understand more about the game over the next few days
Basic Interface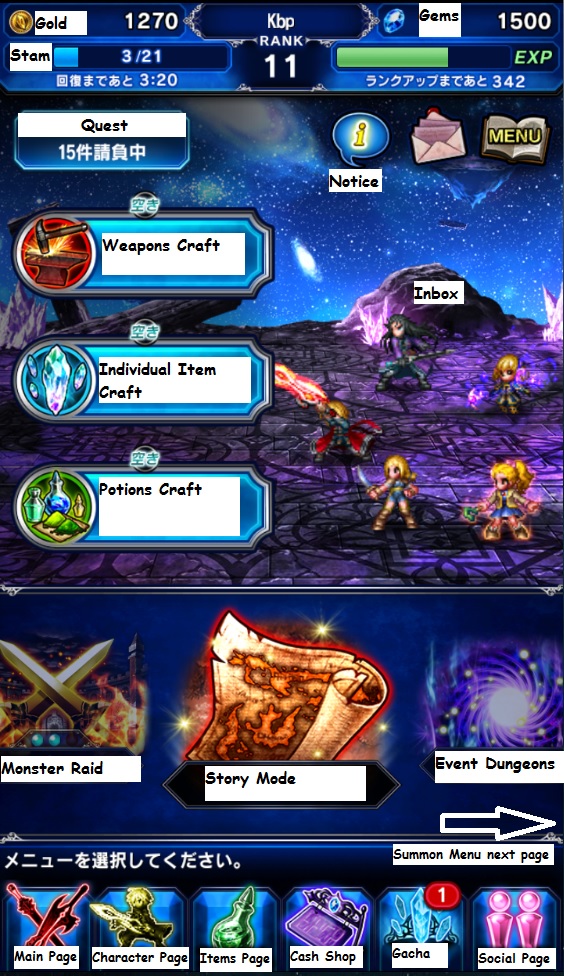 Gold(Gil) – Most important currency ingame. Crafting, Buying Items, Upgrading
Gems – Gacha, Expansion of Inventory, Refill Stam, Revive, Expand Crafting Slots, Accelerate Crafting times.
Stamina – Recharge 1 every 5 minutes.
2. Character Page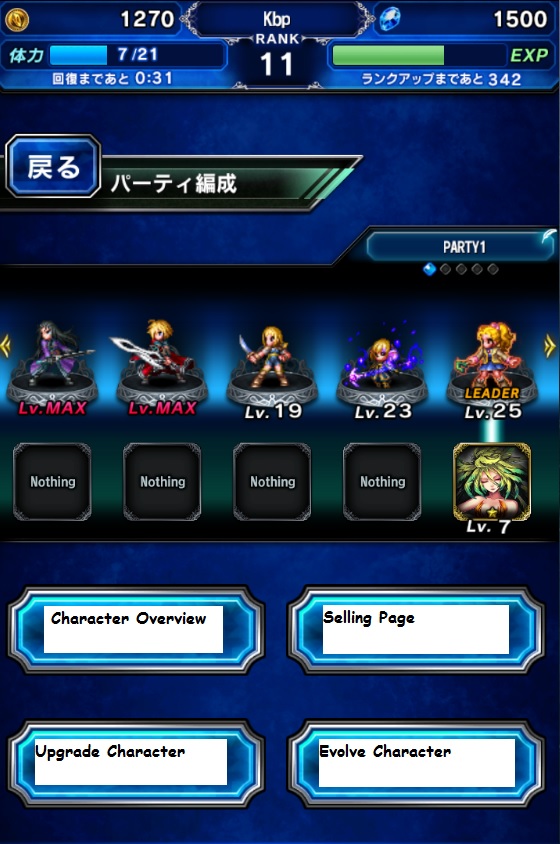 2.1 Character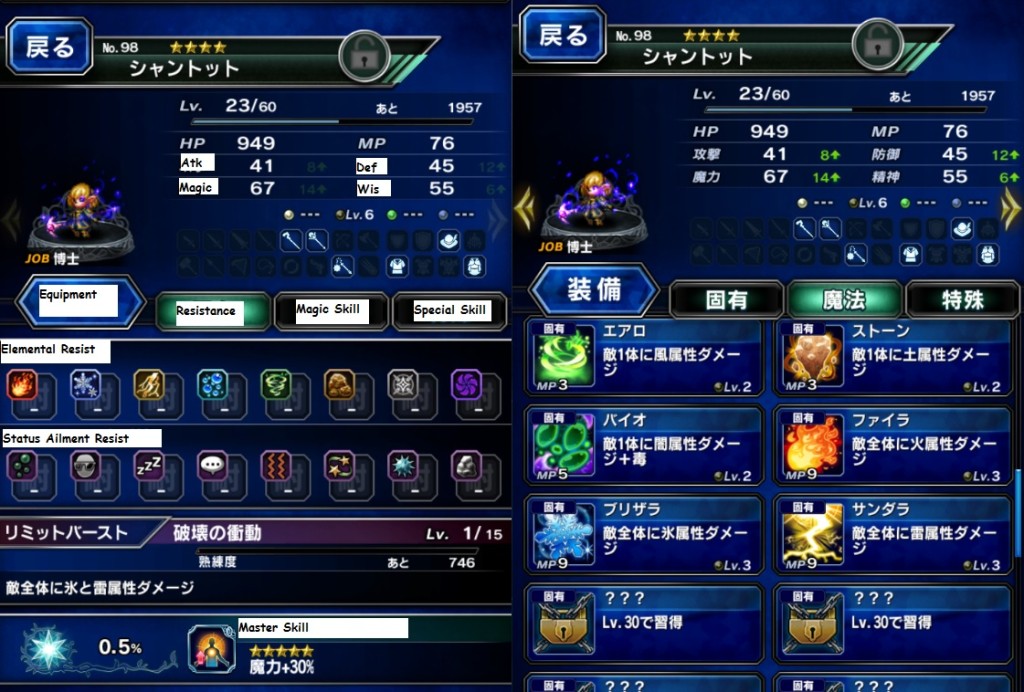 Magic/Special Skills – can be unlocked by leveling your characters.
Equipment – You can equip your characters with powerful equipment and special Consumables
Master Skill – Increase by fighting or feeding the same character.
Evolve Requirements – Evolve Materials + Max Level + Gil.
3. Items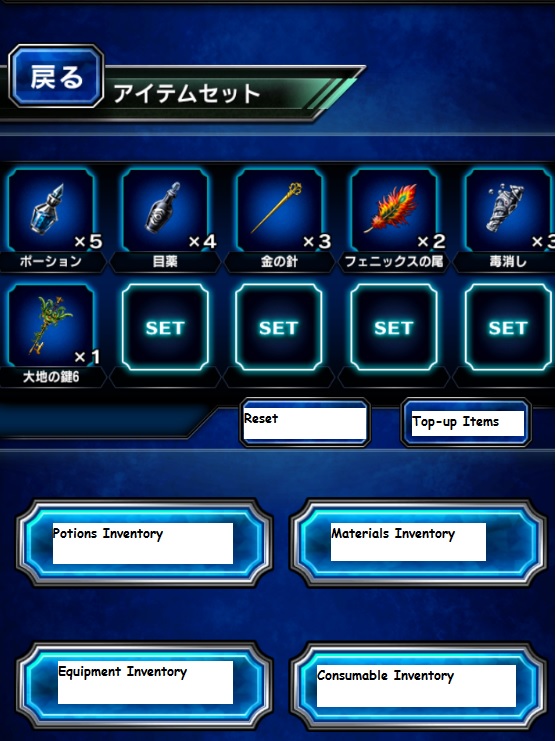 4. Cash Shop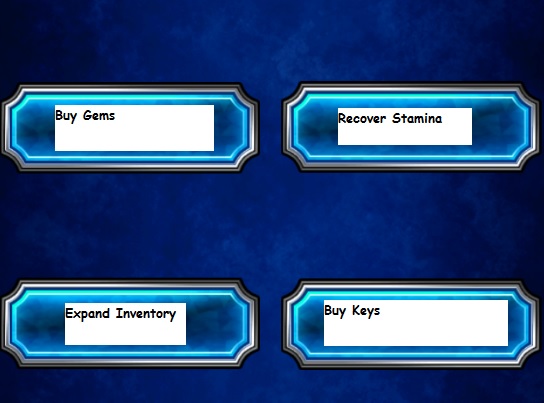 5. Gacha
Premium with Gems
Friendship Points – If you need Gil, pull this, train them and sell for more Gil.
You can find your own ID on "Search for Friend"
7. Menu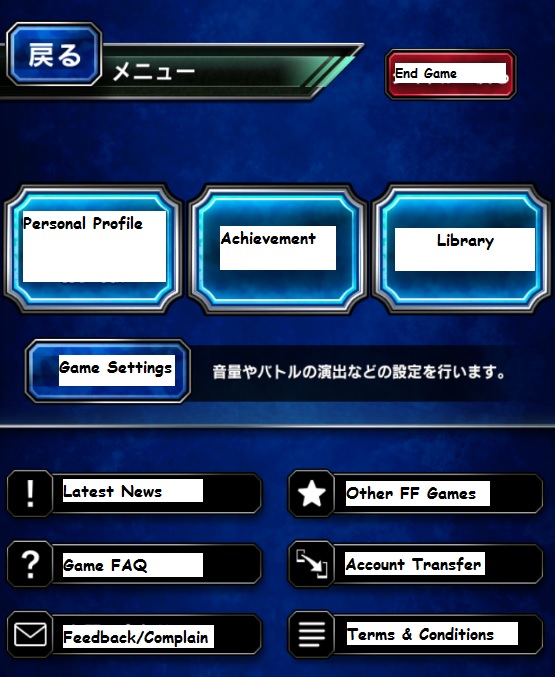 Personal Profile – Change your Welcome Message and IGN
Achievements – Collect Rewards for completing certain Achievements (3 Categories)
Library – Includes Items, Armors, Characters and Summons
Latest News – Close Beta Players can exchange your CBT reward code here
Account Transfer – Tap on the Left button to input your password, tap OK to generate userid. The Right button for your Userid and Password.
Part One of the Guide will end here. Remember to check back tomorrow for the Battle guide.
You can add me here!