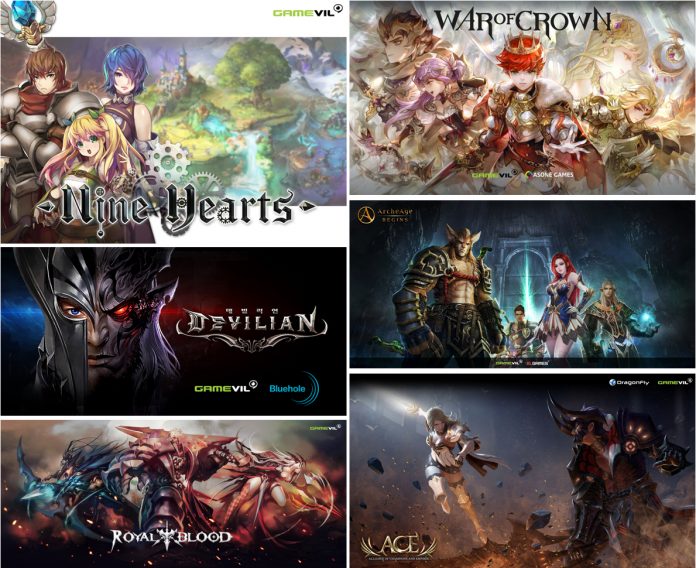 Gamevil plans to launch six new titles in 2016 and 2017, which are Royal Blood, Nine Hearts, War of Crown, Devilian, ArcheAge, and Alliance of Champions and Empires.
Gamevil continues to innovate as a leader with the announcement of Royal Blood, a mobile MMORPG that boasts synchronous multiplayer game play alongside stunning visuals and blistering processing speed. Royal Blood is positioned to make a strong, lasting impact within the mobile RPG community.
In addition to Gamevil's foray into the MMORPG genre, the publisher will add Nine Hearts, a team-based strategy RPG to their repertoire. Nine Hearts is likely to strike an emotional chord with its universe of memorable characters, witty dialogue, and fascinating lore.
Gamevil has also continued to build its reputation as a publisher with its relationships with developers Asone Games, Bluehole, Dragonfly, and XL Games. Asone Games's turn-based strategy RPG War of Crown seeks to become king of the genre with its top-notch production values, story, and tight gameplay while Bluehole's Devilian distinguishes itself among mobile action RPGs by offering unique gameplay mechanics and the fearsome challenges that fans of GAMEVIL have come to expect.
XL Games's ArcheAge Begins takes the vibrant visuals and grand scale of ArcheAge, the popular 2012 MMORPG, and cleverly adapts an uncompromised version of it to mobile.
Finally, Alliances of Champions and Empires (ACE) builds on the success of favorably received titles such as Kingdom of War with gameplay that rewards smart, strategic thinking and team management.
War of Crown is hosting it's pre-registration campaign currently. Players can click on the link here to participate in this campaign!