After a failed initial launch, Bandai Namco is finally ready to release Hunter x Hunter: Greed Adventure! Players can now download the game from Japan's App or Play Store.
Hunter x Hunter: Greed Adventure was suppose to launch in December 2018 but was taken down for a month due to some server issues. The game is now playable.
Hunter x Hunter: Greed Adventure is an automated Action Game. This is a brand new story based on the Hunter x Hunter world. The game is set after the events from the "Greed Island" arc. When Gon and his friends cleared Greed Island, The Hunter Association decided to create a brand new Greed Island 2. Your task is to help Gon and his team solve the mysteries of this second Greed Island.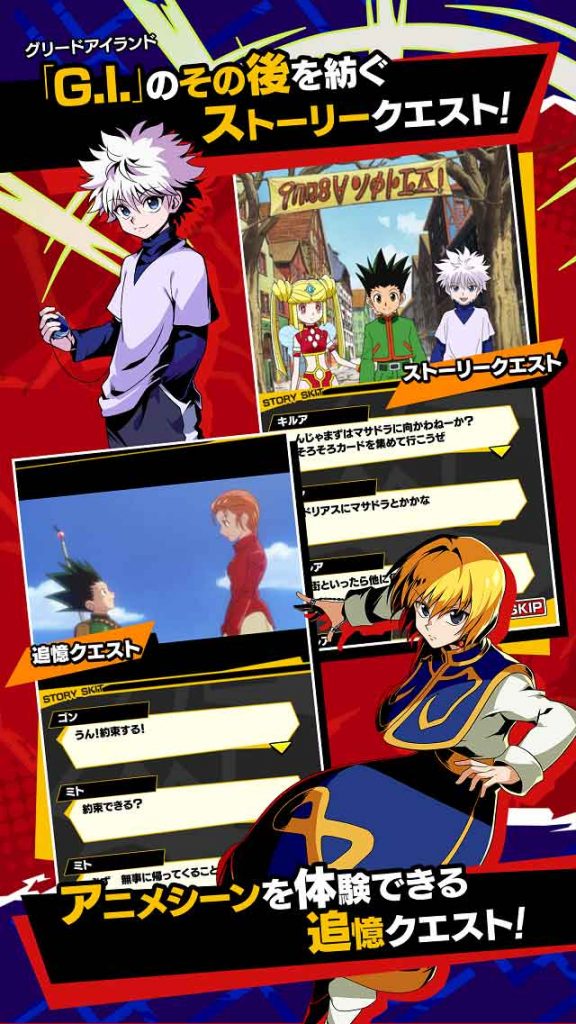 As mentioned earlier, combat is pretty much automated. The only movement you can control on your character is to dodge attacks by swiping in a direction. You can equip skill cards on your characters and use them by tapping on the skill icon. The combat is pretty much similar to One Piece Thousand Storm.
As for the game's Gacha system, it is something a little different and I'm not sure if I'm liking it. Players will be gachaing mainly for skill cards and every time you do a 10x summon, you will receive a random character shard. You will need to collect at least 20 of these shards to obtain a full character. The good news is that, the shards from Gacha are always for 5* characters.
Due to the delayed release, Bandai Namco has compensated tons of Gems for Players to try their luck. So if you're a HxH fan, this is time to try out the game!
Publisher
Bandai Namco
Platform