NC Japan has released their latest mobile game, Kungfu Puzzle (カンフーパズル). The game is currently available for Android users. Read on to find out more!
Kungfu Puzzle is a brand new Connect-4 Puzzle game. Unlike your usual connect-3 games where you have to form a line using the same coloured jewels, Kungfu Puzzle requires players to form a square with your jewels. This is definitely more challenging as it requires you to visualize a broader playing field.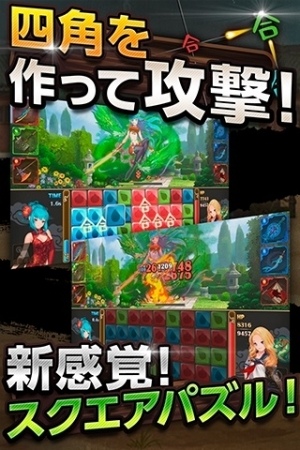 Another highlight of the game is the customization of your main character. Players will be able to purchase/earn different costumes from the game and doll up your main character. Although costumes are purely cosmetic items, weapons on the other hand will boost your character's strength and aid you in taking down the monsters quickly.
As for the art-style, I assure you, there will be enough bouncy stuff to catch your attention *wink*
Kungfu Puzzle is out now on Japan's Play Store. Hurry and grab it now!

Publisher
NC Japan
Platform