IPOCKET has recently launched the new content patch for Luna Mobile. This latest update includes additional gameplay mechanics that will definitely keep Players busy over the next few weeks.
Monster Siege
First up, we have Monster Siege which can be unlocked at level 39. Every Wednesday and Saturday from 21:00 to 22:00, the Devil's monsters will gather together to attack the main city. Your job is to destroy the monsters appearing in the main city (higher chance to appear near NPC). "Honor" will be given out to the player when a monster is killed, higher level monsters will give out higher amount of "Honor". "Honor Rewards" can be redeemed after a certain amount of "Honor" is collected (rewards unclaimed will be given out via mail when the event ends). Every monster has a certain amount, it will be killed when its amount is 0 and players will need to find another monster. The monster will run away if it survived until the time runs out.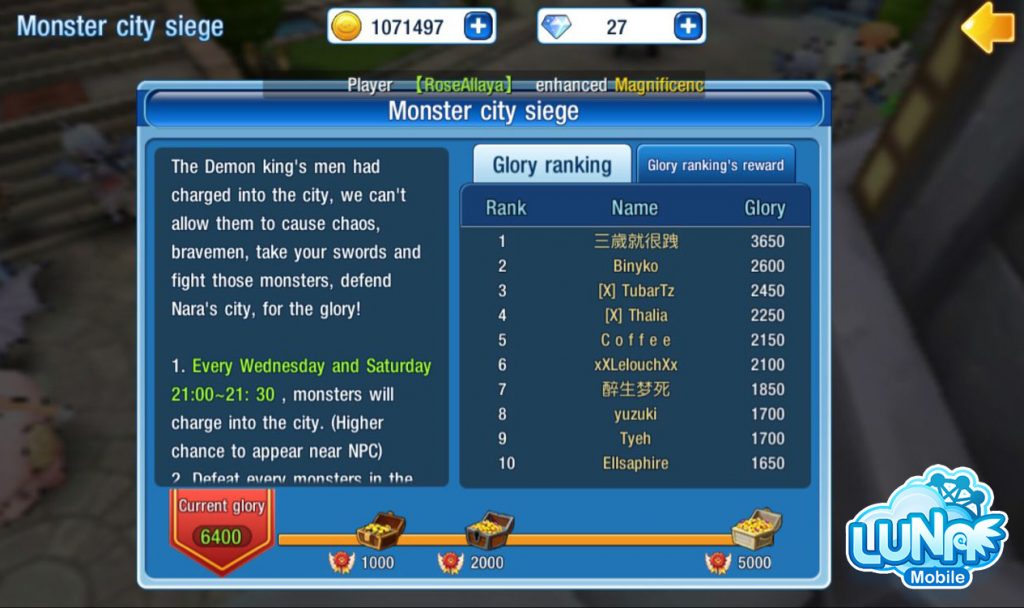 Accessories Enhancement
Also unlocked at level 39, we have the Accessories Enhancement system. Accessories can be enhanced using "Accessories Enhance Stone", the higher the level of enhancement, the lower the possibility to success. The enhancement level will drop if the enhance failed, players can use "Accessories Enhance Protection Order" to avoid the level drop.
Minion Bronze Statue
Next up, we have the Minion Bronze Statue. This can be unlocked at level 47.  The"Minion Statue Museum" is separated into different exhibition hall for "Fire-type Minion", "Wind-type Minion", "Water-type Minion", "Melee Minion" and "Ranged Minion". "Back Exhibition Hall" will only be activated when a certain of "Statue" is collected at "Front Exhibition Hall".
There will be 5 classes for the "Statue" (will be unlocked according to level) – "Iron", "Bronze", "Silver", "Gold" and "Diamond". 4 statues are included in every classes, the respective "Statue Activation Stone" is required to activate a statue.
Minion Stats will be greatly increased after activating its statue, while the other minion will receive small stats increase too. A statue can be used for one minion in the "exhibition hall" only (not shared), the "exhibition stats" will be increased for an extra 1% when an extra statue is activated. The minion will be able to gain an extra stat after a certain star level.
Minion Clone
Lastly, we have the Minion Clone system which can also be unlocked at level 47. Challenge the Minion Clone, "Minion Statue Gem" will be given out respectively when the player wins. There are 3 chances to challenge the event daily. Players can refresh the "Minion Clone" manually by using diamonds too.
A chest will be rewarded on victory, players can spend diamonds to open an extra chest. "Minion Clone" can be challenged solo or team, the difficulty level changes according to the player combat power and level. "Minion Clone" can only be refreshed into the unlocked "Minion Statue Museum".
With so many new content for to explore, the Players from Luna Mobile will definitely be kept busy until the next content patch!
Download and enjoy the game now : http://bit.ly/2DnMCBu