Million Arthur fans, the latest version of the 'Million' series, Million 演義 (or Million Lore) was finally released on 9th May 2014.
The game is released simultaneously on six countries (Korea, Taiwan, Hong Kong, Macau, Singapore, Malaysia) and can be found in the respective App/Play store.
I've been playing Million Arthur for the past 2 months and am definitely loving the art style of the game thus decided to hop on the ML bandwagon.
Furthermore, I'm a succor for Three Kingdom games thus this is definitely a must play for me.
The story
The emperor has passed away. The dynasty had fallen and the world was becoming a chaos. 
Riots occurred from everywhere and places were swarmed with thieves, but no one could look after the public without the emperor. 
The world seemed to be hard to regain its stability, whereas the confusion gets aggravated. Without realizing that another chaos would soon take place…
Similar to MA, you are the 987429th candidate to become the emperor of China. However this time, you have to choose between 3 different Kingdoms, Wei (CaoCao), Wu (Sun Quan) or Shu (Liu Bei).
Unlike MA, choosing your faction is important in Million Lore. The new 'core' content for ML is the RVR siege battle which pits the 3 kingdoms battle for Castles. Each kingdom 
If you have been playing MA, you'll find all the controls in ML are almost the same but more polished, and also lots of quality of life updates. For example you don't have to enter the deck editor anymore to choose which deck to use. There will be a drop-down menu for you to choose your deck.
Currently there are several events running concurrently in-game or on Facebook. However, the most important one that I want to mention will be the invitation event. All you have to do is to click the twitter or fb logo (have to login on first tap) and close the page to get the prize. After 50 taps, you will get 25 AP and BP pots each together with 12 Gacha Tickets. Below is a vid of my gacha after getting these tickets.. sadly… it all failed 🙁
PS: i have an extra Pre-register Zhang Jue code, if anyone is interested, please leave a comment below or on my Youtube page.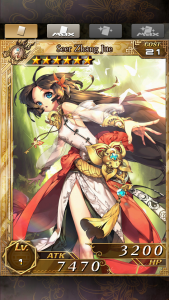 Million Lore now out on iOS and Andriod get them here: