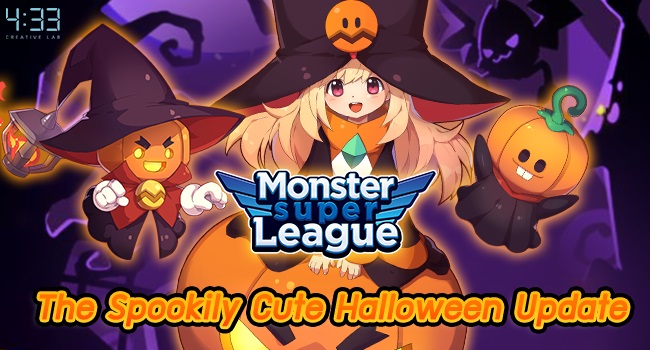 4:33 Creative Lab updates Monster Super League this month with new spookily cute content which sure to trick or treat their players this Halloween Season.
The update introduces a special Pumpkin Astromon dubbed the 'Jack O Little' that can be caught and upgraded to Jack-O-Lanty and further evolved to its most powerful form, Jack-O-Lyn. This Super Rare Astromon will randomly appear in stages of story mode, can be summoned in the Special Shop, or through opening [High] Secret/Dark/Light eggs for a limited time only until 3rd November 2016.
There are two forms of Jack O Little – the light and dark element, both equipped with special recovery powers. At its 3rd evolution form, dark element Jack-O-Lyn can recover energy for the team when attacking and its light element can recover 30% of its own skill energy when it lands critical attacks, making this special Astromon a valuable monster to have in your line up.
The update doesn't stop there; another exciting Halloween activity will start at the end of October and a new 5-star Astromon is slated to be released soon!
For the latest updates, do remember to follow the Official Facebook Page.