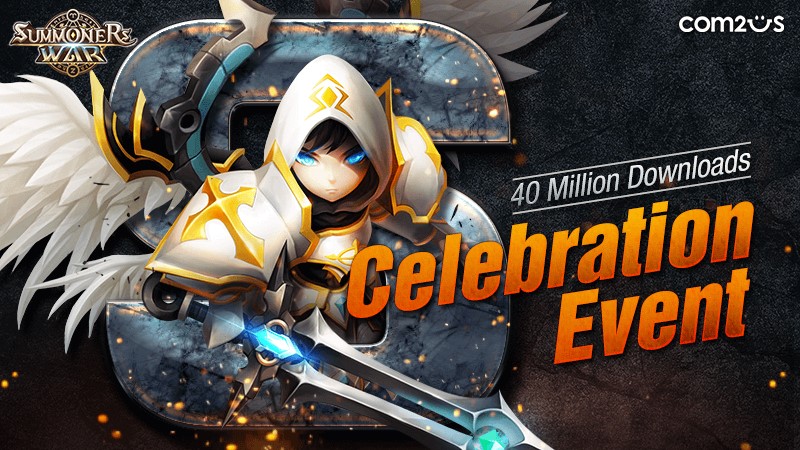 One of the first most successful Korean Monster Breeding Mobile game in the world, Summoners War is now celebrating its 40 Million Downloads with a special giveaway event. Read on to find out more about this success!
Com2uS, a mobile game company, CEO Byeong-jun Song, has announced that Summoners War: Sky Arena, a self-developed RPG game, has exceeded 40 million global cumulative downloads at the end of July 2015.
Summoners War has proven to be a strong global hit by reaching 40 global million downloads 1 year and 1 month after its global release. Summoners War has shown steady growth of users and has shined as a global hit brand by reaching 40 million downloads, it reached 10 million downloads just 50 days after its global release in June 2014 and reaching 30 million downloads by February 2015.
Summoners War's global popularity and its potential of being a long-term global hit is being recognized by making it into the Top 10 in both Apple App Store and Google Play in America, renewing the highest rank in Google Play Japan, and reaching Rank No. 1 in RPG sales in 79 countries.
Summoners War is also making it into the top ranks for sales in the emerging game markets such as Latin America, Southeast Asia, and in Europe. It is being recognized as the representative Korean mobile game in the worldwide market with a great success.
It's analyzed that Summoners War's success was accomplished through ongoing game development and updates targeting the global market and satisfying global users through differentiated marketing tactics for each region.
Com2uS will be holding a special event to celebrate 40 million downloads from July 27th to August 9th where users will get rewards according to the accumulated number of checked in days and will be increasing the number of wishes users can make to get various game items from 1 time to 4 times. Event Dungeons such as Angelmon, Rainbowmon, and Devilmon Dungeons will be open and Dark Cow Girl and game money will be given as a reward to those users that complete the special event missions during the event.
Com2uS said, "Summoners War has proven itself as a global hit mobile game by succeeding in various nations and going beyond the major game markets" and said, "We will continue to communicate with the worldwide users to create new game content and continue to enhance the status of the Korean mobile games."
My First 12 Mystic Scroll Gacha back then:

Summoners War Version is now available for download on App Store and Google Play.