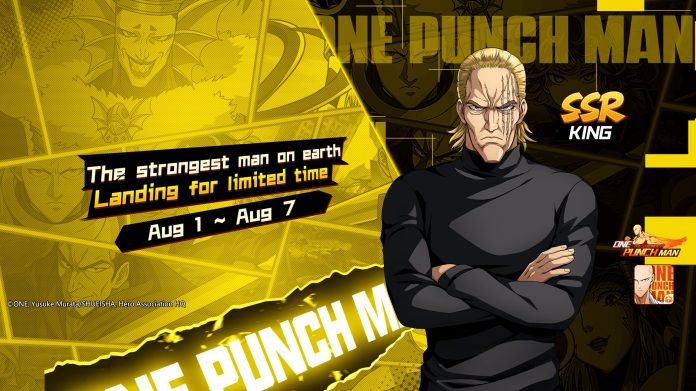 Known as "Strongest Man on Earth", with the rumble of the "KING Engine", KING, is finally here in ONE PUNCH MAN: The Strongest! Now it's time to unravel the mystery behind his secret power that is hidden behind his cool face.
First, let's check out his skills.
[King's Face]
Basic attack shatters an enemy. This is a recreation of his "bluffing" in the anime. He will perform well with characters like Doctor Genus, Mosquito Girl and Boros.
[King's Intimidation]
Blocks Energy, which is very rare in the game. King walks to the center and threatens all enemies several times. Each deals 1 point Damage. 2 Energy points will be blocked.
The massive healing effect by 50% ATK will make sure your team firmly stays alive in critical situations.
[The Strongest Man]
This Passive Skill guarantees KING's damage while being a team supporter. Since the damage is directly related to your Energy, if you begin with 3 Energy points, you will deal bonus damage by 80% of ATK.
Let's check out some Lineups with King:
The first plan: Set KING as SPD 1, Child Emperor as SPD 2, Atomic Samurai as SPD 3, Golden Ball as SPD 4.
This plan mostly emphasizes KING's Energy blocking. This works against Core Skills of Child Emperor, Genos and Amai Mask, which will generate Energy by using skills when battle begins.
When our KING is faster than the enemies, they have to give up their original plan and consider solving the Energy problem.
When our KING is slower than the enemies, the Basic Attack of KING SPD 1 can still shatter the enemy. Combine this with Child Emperor's Lv.4 Core Skill to generate Energy. Then you can use 4 ~ 5 Ultimate skills in the first round.
This plan also works in situations when only Heroes are allowed such as in the Tournament.
The second plan: Set KING as SPD 1, Smile Man as SPD 2, Deep Sea King as SPD 3.
This plan emphasizes KING's damage. His Passive Skill will deal super high burst damage with massive healing.
This way, we will be slightly slower than the enemy, allowing them to attack first. Trigger the Core Skill of Deep Sea King, which will generate Energy after blocking. KING's Passive Skill will deal quite high extra Damage. Combine this with the Passive Skill effect of Sky King and this will greatly increase bonus damage. As we are slower and KING needs higher ATK, you need to deploy Superalloy Blackluster in the same row for protection. Smile Man's Passive Skill will heal KING and increase the chance of survival. The healing effect of KING's Ultimate skill, together with the Passive Skill of Doctor Genus, will increase the whole team's ATK.
Above is our KING's guide. Hope the rumble of "KING Engine" brings you luck!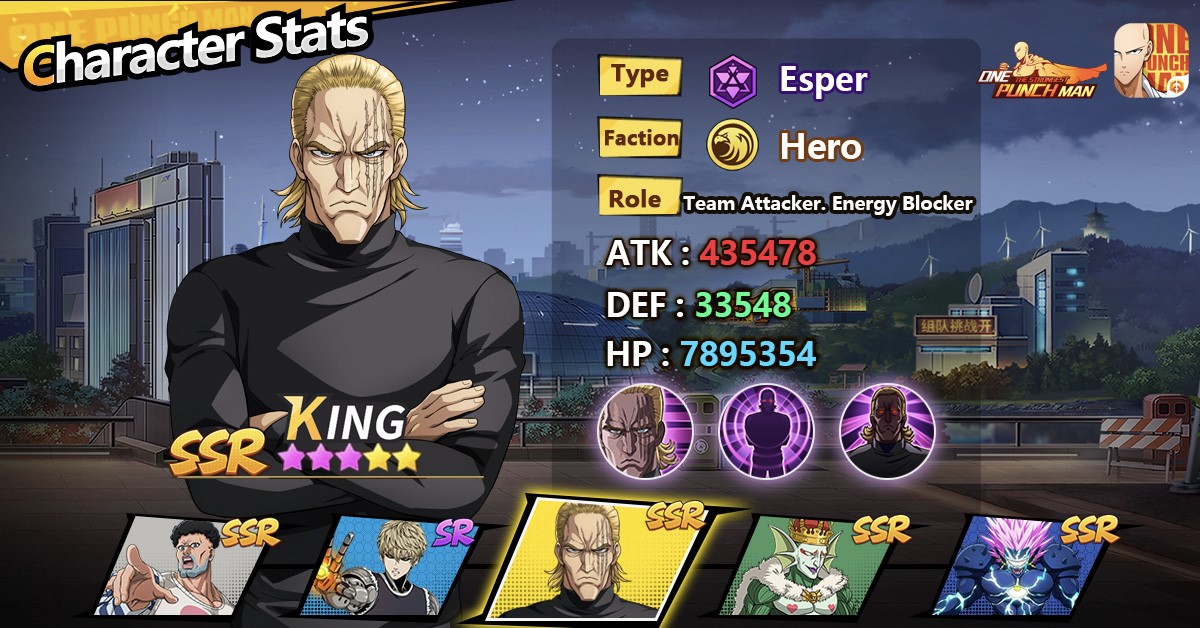 If you'd like to know more about ONE PUNCH MAN: The Strongest, follow the official Facebook fanpage to get the latest news!
Important Links