DeNA Hong Kong, in collaboration with Mineski Thailand, have come together to announce the Champion Cup Tournament for the SEA version of Slam Dunk mobile game. Players who participate in the tournament can stand a chance to win prizes worth more than 200,000 Vouchers (In-game currency).
Registration
Registration period: 15 – 23 January 2021
Registration link: https://forms.gle/s48LKuexz42A6aT98
Discord link: https://discord.link/SlamdunkChampionCup
Competition schedule and rules
First round
Start 26 – 28 January 2021
In the first round of competition all 512 teams will advance to the knockout stage. All with be in BO3 (Best of 3 format)
Schedule of the first round:
Tuesday January 26, 2021   Round of 512 teams
Wednesday    January 27, 2021   Round of 256 teams
Thursday        January 28, 2021   Round of 128, Round of 64 and Round of 32
Schedule for the broadcasting round:
Saturday         January 30, 2021   Round of 16 teams and Quarter Final (8 teams)
Sunday   January 31, 2021   Semifinal (4 teams), 3rd Place Match and Grand Final
Tournament format is single elimination consisting of BO3, BO5, and Grand Final is BO7.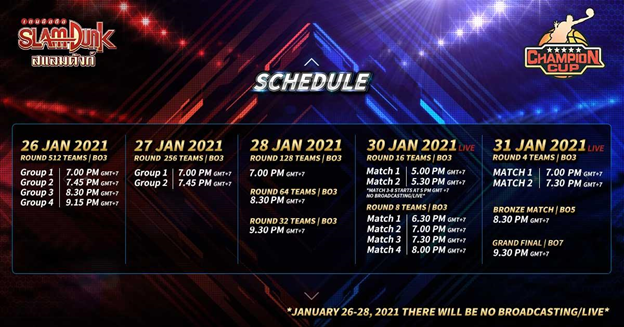 Prize Pool
Champion:                             100,000 coupons / team
Runner-up:                             60,000 coupons / team
Second runner-up:                  30,000 coupons / team
Third runner-up:                     15,000 coupons / team
Reward for the participated team 300 diamonds / person
For English broadcast
YouTube :      http://bit.ly/YouTubeSLAMDUNK