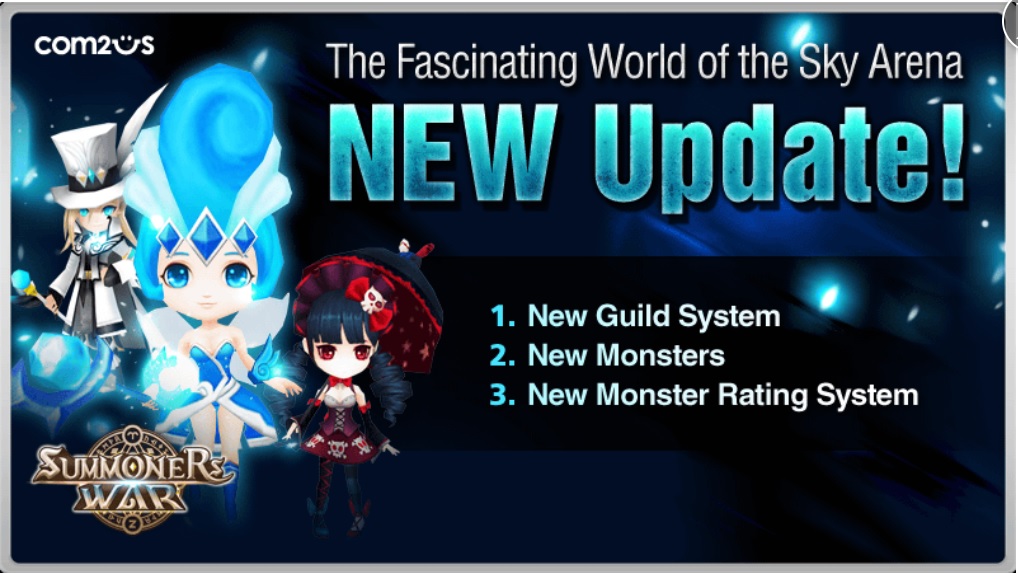 Here's a quick compile list of today's patch notes:
With the latest patch, 5 new monster types are added to the game.
1. Pixie **
2. Bounty Hunter ***
3. Mystic Witch ***
4. Phantom Thief ****
5. Occult Girl
Guild Function
– Tap on Community to select guild functions
– You need to be summoner level 10 to create a guild
– The maximum number of members in a guild is 30
– The guild has to be empty of all members before it can be disband
– Guild Leader can pass on Guild leadership through the Guild menu
– Added Guild chat function
– There are further plans for guild interaction in the future.
Monsters
– Now you can leave reviews and ratings on monsters to share with other users.
– Tap on the "User Rating" Button to view reviews
– You can now lock your Monsters to prevent accident
– Skill Power-up effect has been changed for Dark Magical Archer's Shadow Arrow.
– Inflicted damage will increase instead of weakening effect rate.
Others
– The cost to remove runes has been decreased by 50%
– Delete all of your unwanted "Friend Request" at once
– The Secret Dungeon has been modified
– The top floors now have fewer, but stronger monsters to decrease the playtime required to clear the dungeon
– The chances of getting pieces at each floor has been increased.
– Angelmons will no longer be dropped at the scenario dungeons.
– The drop rates for Runes and monsters have been increased in scenarios.
– The UI for transferring accounts have been improved to minimize the possibility of mistakes.
– The Draw Button will now pop up at appropriate times in the Arena.
– You can now purchase more mana stones with Crystals in the Cash Shop.
– You'll now receive lvl 15 Angelmons when you purchase the Intermediate Pack, Summoner's Pack and Premium Pack.
– Your EXP boosters will now be sent to your inbox when you make a purchase.
Other Bug Fixes
– Only Strengthening effects will be removed when Oracle's Predicted Future is used.
– The view mode for the monster window will no longer change after Monster Evolution.
That's all folks!! For those who have been following my unlucky 10+1 gacha videos, I finally gotten a 4* monster; Awakened Mystic Witch, but because I was so fed up with the lag on my iphone reflector, I decided to stop recording and BAM! I got a 4*.
How about you, people? Have you gotten the Occult Girl??