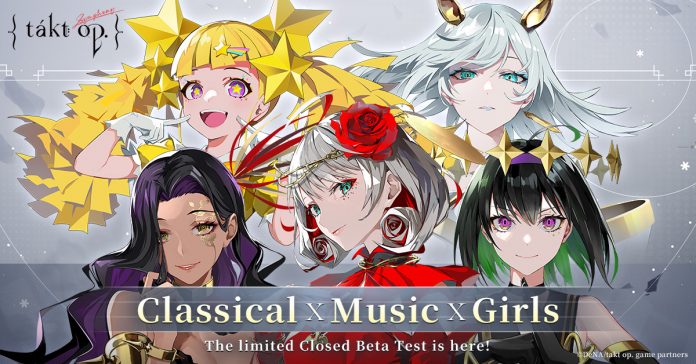 DeNA's mixed-media project "takt op. Symphony" has announced that it would hold an 8-day closed beta test in Taiwan, Hong Kong, Macau, South Korea, and Southeast Asia. During the login period, players will earn 200 free draws and rewards such as Musicart, Memories, and so on. This closed beta test is only open to 3,000 individuals across the entire region. Players can obtain the APK download link by joining the official community.
The first closed beta test will be available in Taiwan, Hong Kong, Macau, South Korea, and SEA
The highly-anticipated mobile game "takt op. Symphony" was previously exclusively available for closed beta testing in Japan and China. It eventually introduced the first closed beta testing in international locations recently. The test offers traditional Chinese, English, Thai, and Korean language options that players from different regions can freely switch between.
Available time: 3/16 (Thurs.) – 3/23 (Thurs.) CBT with Wipe
Available areas: Taiwan, Hong Kong, Macau, South Korea, Singapore, Malaysia, Thailand, Philippines, Indonesia, etc.
Limited quota: 3,000 players
Test method: APK download
Test qualification: Join the game's Discord group for APK download link
takt op. Symphony is an ARPG with classical music as its theme, combining excellent storylines and rich character designs to create a visual and auditory feast. Players will take on the role of Conductor and accompany the Musicart on a challenging and mysterious journey.
Aside from the fantastic game content, the game screen and sound effects are also highlights. There are more than three sets of character illustrations for each Musicart in the game. Players can also interact with a variety of Musicarts in the 3D scene. The battle's music and action performance are even more captivating, giving the impression that you are actually in the world of music.
With the launch of the closed beta test, players will be able to experience the game's exciting content ahead of time. Various rewards and activities will be provided to Conductors during the closed beta test period, according to the official. After finishing the task, the total number of free draws could reach 200! Join your favorite Musicarts in battle by joining Symphonica!
Participation in the closed beta test of "takt op. Symphony" is on a first-come, first-served basis. Joining the official Discord group will get you the APK download link. Follow the "takt op. Symphony" official Facebook page and Facebook group for more information on the game.
"takt op. Symphony" Facebook page:
"takt op. Symphony" Discord server:
"takt op. Symphony" YouTube channel: