Com2uS announced that it has released a new RPG title Wonder Tactics in 4 countries: Singapore, Australia, Malaysia, and Philippines. Starting from those 4 countries, Com2uS plans to expand the service areas, eventually making Wonder Tactics available all around the world.
Wonder Tactics is the first RPG to be in-house developed after the globally successful Summoners War. The game has 250 Heroes to collect with various ways to train or strengthen them, and encourages strategic game play by featuring a 3×3 battle formation system and intuitive controls. Also, with the game featuring a wide range of PVE and PVP contents, the game offers the users a lot to dig into.
The game has some guard system to prevent hacking thus I was unable to record a video of the game or play it on the emulators. Will have to wait for the iOS version to make some gameplay video. I have yet to unlock the pvp mode in the game but if PVP is real-time, this can potentially be the best mobile game in terms of tactical pvp gameplay. There are just too many potential strategies a player can come up with to best their opponents.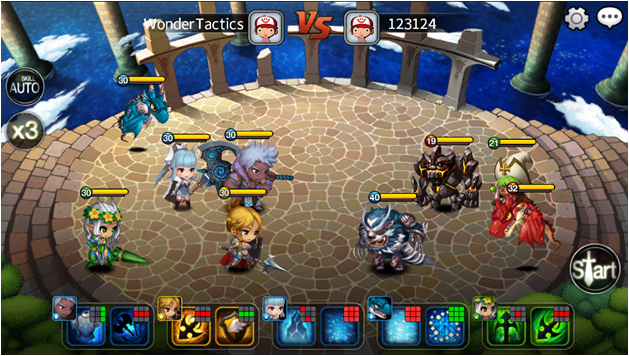 The game uses the chibi big-headed cartoony model. This is definitely great for attracting our female audiences. Com2uS says that it will utilize the experience and user pool that it has gathered by developing and servicing Summoners War to make, yet again, another successful mobile RPG title.
Features:
1. Unique Collection of Heroes
– 250 Heroes with unique characteristics
– 5 different attributes of Water, Fire, Earth, Dark, and Light
– Various Hero types from knights to legendary dragons
– Summon legendary Heroes of 1-6★
2. Strengthen Heroes Your Way
– Activate different traits of the Hero by using Gems
– Use Fixed Evolution to evolve heroes. Use Random Evolution to evolve to a different Hero
– Exceed the level limit with the Transcending System
– Power-up Skills with the Awakening System
3. Simple Team Formation
– Change up formations for different battle styles
– Strategic battles using various skills
4. Various Dungeons & Battles
– 150 Dungeons in 3 difficulty modes
– Special Dungeons including the Tower of Treasures, Raid, Secret Dungeon, Arena, and more
– Challenge other players in PvP mode
Publisher
Com2uS
Platform