Com2Us has announced the start of the Beta Test for their upcoming mobile game, Birdie Crush. Beta test will only be available for Android users and will be opened to all until 14th September.
After an hour of testing the game, I feel that Birdie Crush is a simple Anime Golf game that is made for casual play. Compared to other games of the same genre, the entry skill level for Birdie Crush is much lower.
Unlike most Golf games where you'll have to double tap for your "Swing Power" and "Accuracy", you'll only have to tap once in Birdie Crush for "Accuracy". The Power is automatically done during the Aim shot phase.
There are 3 game modes currently for this Beta test, Live Match, Competition and Near Pin Competition. Live Match is where you'll play a Best of One game with a random real-life player. The winner will get to promote his/her rank. In Competition Mode (unlock at Rookie Rank), you will play together with 3 other players in a 5-hole competition. However, what you need to do is to perform well to score Birdie Points. These points will be used to judge your daily rankings in Competition mode.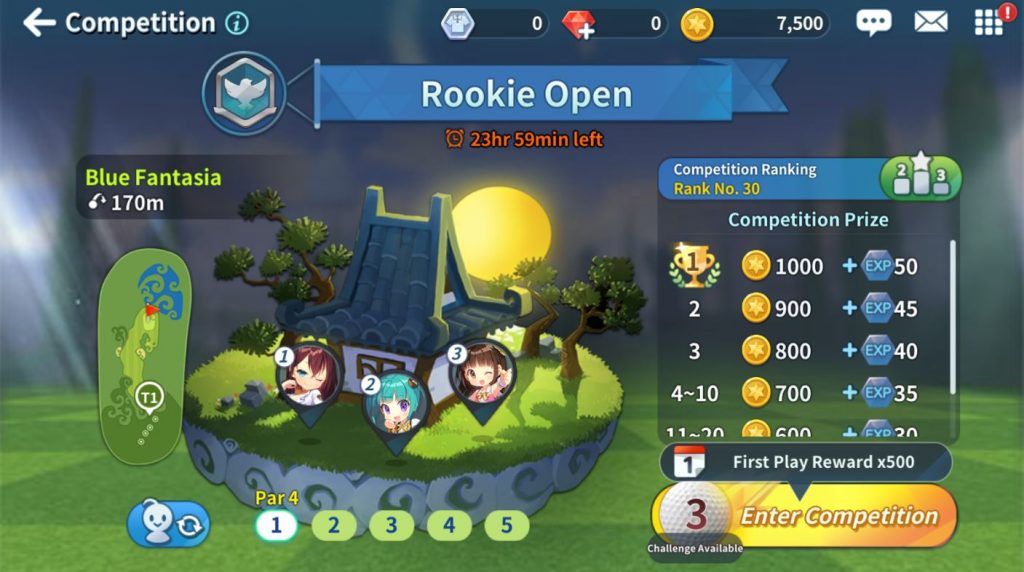 As for Near Pin Competition, I have yet to unlock it since you need to be at least at Silver rank.
As for customization, the game does provide tons of costumes and accessories for Players to unlock. If you like collecting costumes or fantasy like Golf equipment, there will definitely be something out that there suits you.
To summarize, Birdie Crush is a simple Anime golf game that is easy for any one to pick up. In my opinion, the game lacks a content for replayability but since this is only Beta, Com2uS might have more content to release during actual launch. If you like Golf type games, I suggest giving the game a go.