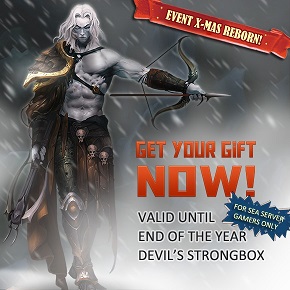 Darkness Reborn Fans rejoice~ As we approach the Christmas Season in 2 week's time, our friends from Gamevil has prepared some gifts for our SEA players.
From now until the end of the month, enter the following code and you can get yourself a Devil's Strongbox (valued at 100 Sols.).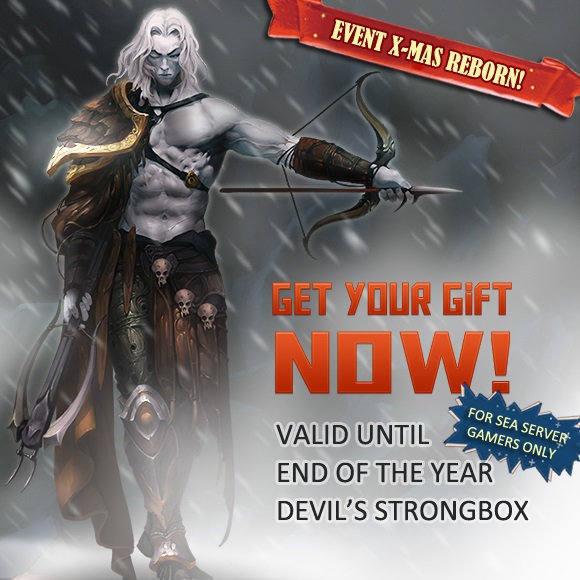 Details As follow:
Coupon Code : XMASCOMESOON
Redemption Period: 2/12/2014 – 31/12/2014
How to Redeem:
Step 1: Click "NOTICE" icon at the game lobby
Step 2: Click on "Enter Your Promo Code Here" banner
Step 3: Enter "XMASCOMESOON" into the text box and click "Enter" button
Step 4: Go back to the game lobby and click "MAILBOX" icon
Step 5: Select "A Coupon Reward has been sent" to open the gift
Terms & Condition:
1. Redeemable once per account
2. Only available for SEA server
3. Available for both iOS and Android
4. Only 50,000 lucky players can get this!! HURRY!
The game's just gotten a big patch update and the new character; Daemon Hunter is now playable. The town has also been decorated with the "Snow" theme in preparation for christmas!
Click Here to read the latest patch notes.
Thank you so much for your support guys! Don't forget to Like my Facebook Page as I will try my best to get more Xmas Gifts for you!