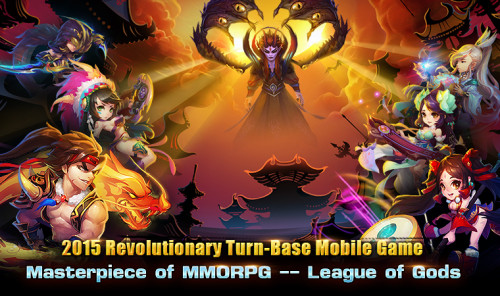 After releasing Holy Knight about 2 weeks ago, 4399en has announced that they will be launching another new mobile game, League of Gods. Read on to find out more!
League of Gods provides not only Anime-ish graphics, but also melodious music. A theme song was specially made for the game as a gift for the players.
Explore in the pilgrimage for buddhist scriptures, and pull through 81 Dungeons, be the Eudemon of the world and save it from Demon Lord. As the Saviour of this epic role-playing game, you can conjure heroes such as Monkey King, Pigsy, Tripitaka and so on to fight for you.
— Key Features —
Strategy and Formation:
Over 24 heroes are under your command. Choose the best formation and crash anything on your way! It's a war of brain and strategy!
Unique way to get Heroes:
Choose your favorite hero! No more waiting on collecting heroes. In LOG, you can conjure the heroes you like from the Tavern or through Event Reward!
Real Friend, Real Avatar:
Curious about who's playing with you? Just check the Avatar! With customized avatar in this game, players will be able to see the real face of each other! Time to get social!
Real time PVP Arena:
Mow down your opponents and top the ranks! With higher fame, more heroes will follow you!
Fight for your Guild:
All for one! Fierce battles, Love confessing, Guild Escort and so on! Group up with your guild buddies and stand to the last!
Free trade:
Are you tired of non-stop recharging? LOG allows you to earn free gems on your own. Becoming a Millionaire is not a dream.
Whether it's your first Turn-Base game or you're an experienced professional, the depth and charm of  League of Gods will definitely draw you in.
Close Beta will commenced Tomorrow! Stay tuned here for the latest news and updates!