Collecting your music catalog is tough work. However, even collecting your favorite tracks for years is not as tricky as managing them. Getting lost in genres, performers, and albums takes no time. You forgot to update the right playlist or accidentally deleted a folder – and you might be short a couple of some very dear songs.
Luckily, it's all the question of organization. If you arm yourself with a multifunctional music manager, you'll have a much easier time accessing your songs. Let's take a look at the most functional music managers out there and compare their functionality, interface, and add-ons.
1. Dopamine
This music player has a friendly, informal vibe going around it. It's fast and straightforward, with just enough functionality for easy music search and management. The main reason for its popularity is its freeware license which allows to download and distribute the software for free.
Just like many Open Source tools, Dopamine is frequently updated by the active community of developers who are also its active users. That's perhaps why the program is the leading player in terms of speed and useability. With thousands of developers who test the code and contribute to it, bugs don't 'fly' unnoticed.
Dopamine supports MP3, M4A, MP4, WMA, FLAC, OGG, WAV, ACC, APE, OPUS and other file extensions. While its functionality is far from being the most diverse on the market, the program still has all crucial features covered. You have automated meta tags, lyric video mode – you can upload the lyrics and watch them appear on the screen real-time, last.FM scrobbling, and others.
2. iTunes
No matter what criticism you heard about iTunes for Windows, it remains one of the best music management software. The thing is, while the original iTunes version is much superior to Windows, the platform still stands out from the competition. If you compare the functionality of iTunes to Windows alternatives, you'll see that iTunes outlays each of them in the rich functionality and synchronization capacity.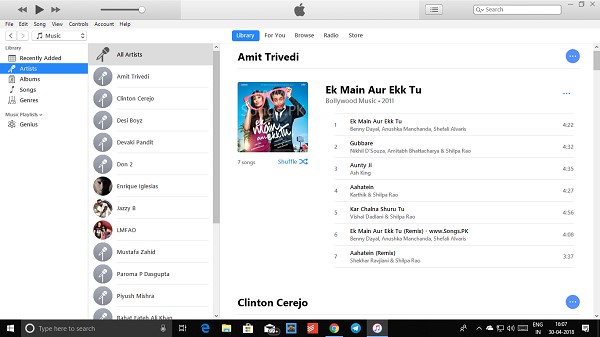 Installing iTunes is a must-do for those users who use an iPhone or iPad. It's the simplest way to synchronize your PC with music files on other Apple's devices. Also, it's the only way for you to be able to use Apple Music on a Windows device.
Essential iTunes features are:
Smart playlists – you can set conditions and create song filters;
The app accesses both local storage files and music on Apple Cloud;
Personalized playlists and albums;
Smart mini-player.
iTunes support MP3, MAV, AMV, AIFF, Apple, Lossless, and ACC. Additional features include equalizer and metadata import.
Just in case you were wondering, you don't have to pay for this one either. Instead, install a free iTune download for PC. And no, the version for Windows is not splitting in three different apps the way it happens in Mac.
3. MusicBee
This music program is one of the oldest on the list, but it can hardly be called outdated – in fact, it's anything but that. The interface is stylish and modern, and the calm color theme doesn't distract you from songs and their lyrics.
MusicBee is known for its distinct import possibilities – you can upload your iTunes and Apple Music library to the player. The supported formats include WMA, WAV, MP3, FLAC, APE, OGG, TAK, ACC, and others.
Even though the default player's functionality is far from being rich, add-ons and skins make up for it. By uploading additional features, you can add CD ripping, 15-band equalizer, DPS effects, and a built-in meta-data manager. The beauty of this system is that you don't have to deal with a massive tool, cluttered with useless features, but instead, edit functionality selectively.
4. Clementine
Yet another Open Source tool of our list. This one initially was only a deviation from Amarok, a popular music player for Windows. At first, it lacked the same functionality variety that its ancestor possessed, but just in a couple of years, the new solution successfully caught up to its older alternative.
Its interface may be somewhat of a weak point, at least compared to MusicBee, but its management features make up for bad looks in full. A rich built-in organizer can be synchronized with SoundCloud, One Drive, Google Drive, Dropbox, and Amazon Cloud Drive.
Also, the software allows you to control the player from your smartphone, similar to a TV remote. With an equalizer, you can edit the frequency of the sound to your liking and make basic repairs of poor-sound-quality tracks.
5. Foobar2000
Foobar2000 appeared on the market a long time ago, but it took Windows users by storm. A simple interface combined with a rich functionality creates one of the most balanced music players out there. It's perfect for beginners; even though the tool has dozens of features, the program doesn't feel cluttered.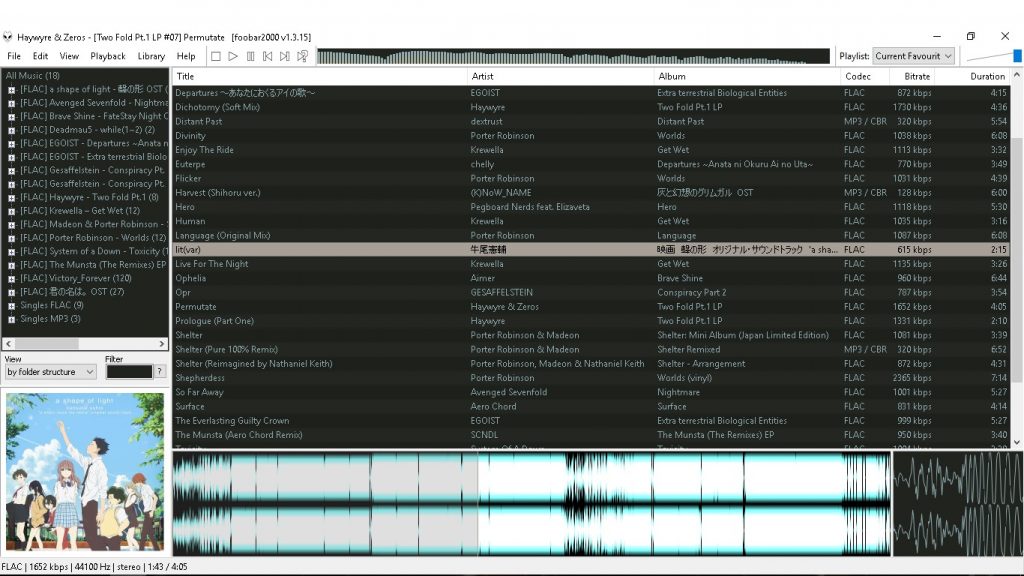 The hook of this program, compared to alternatives, is its modular design. The functionality is made of modules, and there is a lot of space for new ones. You can download Open Source models for Foobar2000, adding on-demand functionality.
Supported formats include WMA, MP3, AAC, WAV, OPUS, SPEEX, and others. Our favorite additional features are CD ripping, meta import, and the management of compressed ZIP, 7Z, GZIP, and other archives.
6. AIMP
AIMP is one of the best-organized music players out there. We'd define its interface the best one from all of the alternatives, presented here. Its visual appearance is very structured and stylish, really an excellent combination of minimalism and versatility.
The primary AIMP's functionality is focused on making smart playlists, CD ripping, song library, skin management. The program also has an 18-band equalizer and a built-in library of sound effects.
AIMP has a long list of add-ons – audio converter, alarm clock, and even sleep timer. You can use the player even with a PC in a sleep mode, saving, therefore, a lot of battery.
7. MediaMonkey
This media player is perfect for lazy music lovers who can't find time to sort their audio. MediaMonkey has robust sorting algorithms – you can filter your audio library by genre,s the date of download, performer, albums. You can even add other criteria to make smart libraries – but just a word of warning, customization requires quite some time and dedication.
Additional functionality includes ripping CDs, burning music to discs, audio conversion, and volume editing. The software can also be synchronized with mobile devices and USB sticks.
The synchronization can be even more effortless with mobile applications. MediaMonkey is available for iOS and Android so that you can share libraries between all connected gadgets.
8. VLC
One of the most popular Open Source music streaming tools for WIndows with a built-in equalizer and a host of radio services. The software allows creating a mini-radio station on your server and streams it over to other networks.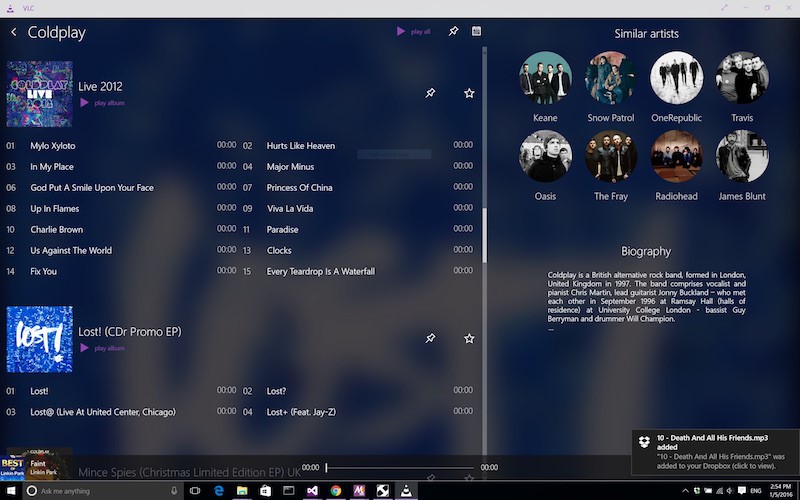 VCL supports several dozens of audio and video formats, including the rarest ones. Both audio and video files can be edited in a built-in manager. You can personalize the listening and viewing experience by adding, lyrics, subtitles, adding quality settings, and synchronize the music library with other devices.
Additionally, the software supports a wide range of operating systems – Windows, Android, macOS, Linux, Windows Phone, Chrome OS, Apple TV.
The only significant problem of this tool is its recently detected security vulnerability. Hackers were using the software to penetrate into users' PC, but it has been fixed lately. So far, so good.
Conclusions
We've reviewed eight best services for music management; now you only have to pick one of those top picks. We'll give you a final tip, though. If you are a beginner, it's best to start with well-known solutions like iTunes. You'll have a lot of free tutorials, guides, and tech support.
For those who like to be able to add new features and even write code for their tools, Open Source platforms will be a much better pick. However, some of the smaller tools pay so much attention to functionality that the interface ends up somewhat cluttered. So, you also need to decide how much the tool's appearance matters to you.
Either way, you can try all of these apps and pick the one that works better for you. After all, it's all about the way a media player makes you feel. If it works for you, then technical specs are not all that important.