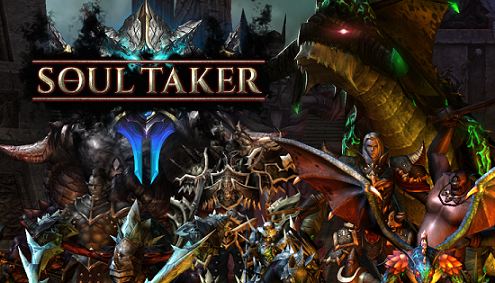 Other than Legion of Heroes (which is my most played game now), Soul Taker is definitely the best graphic, monster battle game in 2014 (IMO).
Players will choose between 2 main classes; the Knight or the Assassin. Collect over 500 different monsters and 1000 different items. There is also a skill skill for you to build your own unique character. Mix and match your best monster lineup and test your skills against others in the arena. The game is somewhat similar to Pokemon where you can "capture" monsters by "absorbing" their souls and turning them into your allies.
The game's graphic is top-notch for a mobile game, and on top of that, before almost every other mission, there's a mini cut-scene to tell the story of the main character. However, the story plays kinda weird probably due to bad translation. There are many different weapons and armors for players to collect, similar to those you find in ARPG games.
To be honest, I'm not really a fan of monsters in clunky medieval armor but because the game is so beautiful (I'm playing on a Samsung Note Pro which makes it even more beautiful), I actually enjoy the game. The game does seem a little repetitive after awhile, however, if you're a fan of monster battle games, you should definitely check the game out and who knows, you might love it!
Check out the trailer here:

The game is currently out on the Playstore.
Publisher
AndromedaGames
Platform
Android Link
Language
Multi