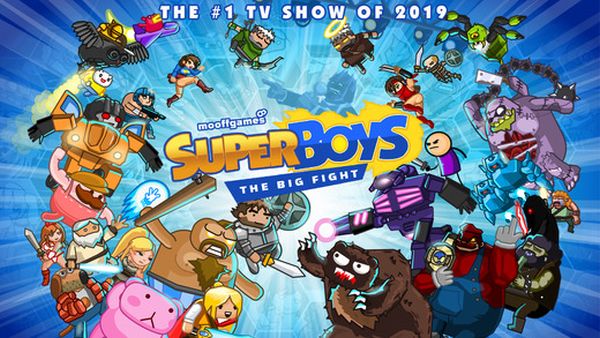 Forget about Cloud joining the Super Smash Bros series. Mooff Games has recently released a brand new Arcade Fighting game called Super Boys – The Big Fight. The game is filled with many random characters, each equipped with their own unique super powers. If you're into Arcade Fighting games, read on to find out more!
The year is 2019 and everyone's bored of TV, celebrities and games. Everything is inflated. Super Boys – The Big Fight, is an ultra violent TV show where fighters from across the globe form teams that clobber each other to win money, toasters and blu-ray players.
The game is a simple Arcade fighter with 2 buttons and a joystick. One button is to jump while the other is for attack. This brought back some memories of my Gameboy console from many years ago. There are 2-3 different combination attacks unique to each character. However, it can be difficult to execute combo attacks as controlling the Joystick on your mobile device is a little difficult. There seems to be an auto-targeting system which is a big problem in 2v2 matches. I had trouble attacking the opponent I want to attack when there is someone else is standing in front (even if his on the platform above).
Features:
• 53 unique playable characters (6 types, Warriors, Undead, Toons, Techs, Beasts & Wizards)
• Team building, assemble your own combination of fighters compete for big prizes
• 20 arena maps
• Ascend the Tower (of Big Dreams) , 100+ stages
• Realtime PVP compete for ratings, Tag-Team or FFA (8 Player) – bash your friends up
• Ladder PVP compete for weekly prizes
• Cross platform (Android & iOS) & Cloud saving
• Incredible face smashing music by Matthew Pablo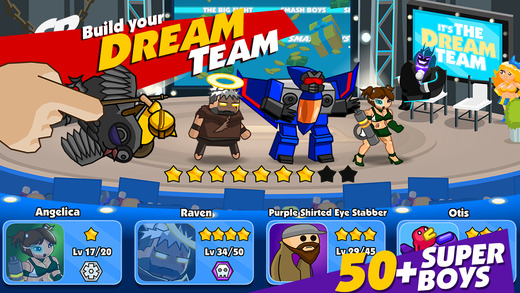 To sum it up, Super Boys – The Big Fight is a great casual Arcade fighting game for your past time. It has quite a number of unique characters to choose from. 20 arena maps and real time PVP! However, the developers do need to improve on the character movement or rather fix the joystick and hidden auto-target system. What's an Arcade fighter if you can't even control your characters properly.
Publisher
Mooff Games
Platform