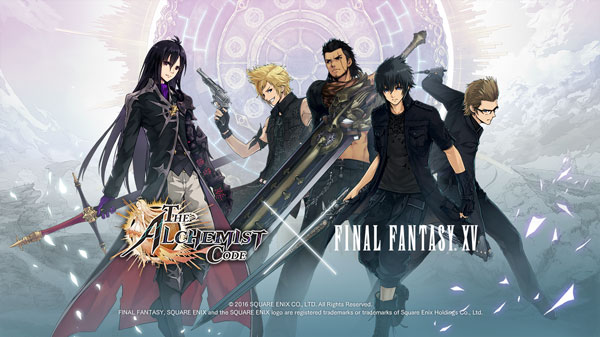 gumi Inc, in collaboration with Square Enix, has announced that FINAL FANTASY XV fans will get to see their favorite character Prince Noctis and his companions in the upcoming FINAL FANTASY XV x THE ALCHEMIST CODE collaboration! From July 5th to August 1st, take a ride with the main characters of FINAL FANTASY XV as they traverse the continent of Babel to escape their ruthless enemies.
Collaboration Event Units
Summon Prompto for free by logging in during this collaboration period! Prompto has been a close friend of Prince Noctis ever since high school. He's highly skilled in the art of shooting, with both ranged weapons and a camera. Add Prompto to your party and defeat the invading enemies!
Players will also get the chance to summon these characters from FINAL FANTASY XV:
Noctis
Gladiolus
Ignis
Aranea
Collaboration Quest:
While trying to escape their relentless pursuers, the Magitek Infantry of the Imperial Army, the Crown Prince Noctis and his companions accidentally stumbled into Babel. Uncertain of their current whereabouts, they set about to look for help. However, fate had other plans. Without warning, a Knight from The Holy Guard unsheathed his sword and, in defense, Prince Noctis and his companions drew theirs. Is he a friend or a foe? Will Prince Noctis and his companions return back to Eos?
Collaboration Event Items
During this event, players can transmute and summon these iconic weapons and items, as seen in FINAL FANTASY XV, to unlock the Master Abilities of their characters:
Noctis's Sword of the Father
Prompto's Camera
Ignis's Zwill Crossblades
Gladiolus's Hardedge 
Aranea's Stoss Spear
Transmute and equip this Job Equipment to level up unique FINAL FANTASY XV Jobs:
Prompto's Glove, Bandana and Fatigues 
Noctis's Fatigues 
Gladiolus's Fatigues 
Ignis's Fatigues 
Aranea's Helmet
*Press Release provided by Publisher