Carbon Eyed, a South Korean mobile game developer run by CEO Chris Lee, held a local media showcase on March 29, 2016 and announced three mobile games – Knights Fall, Tiny Fall, and Gigant Shock. (Gigant pronounced as "ghee-gant")
Carbon Eyed was founded by Mr. Chris Lee in May 2015 after his CEO post at NHN Entertainment. Prior to NHN Entertainment, Mr. Lee had founded Eyedentity Games and created Dragon Nest, a PC-based MMORPG and a world-wide success including China and Japan.
Knights Fall
The first title Knights Fall is a mobile game which brings an all-new approach to playing mobile games and able to feature a large scale battlefield based on its physics engine.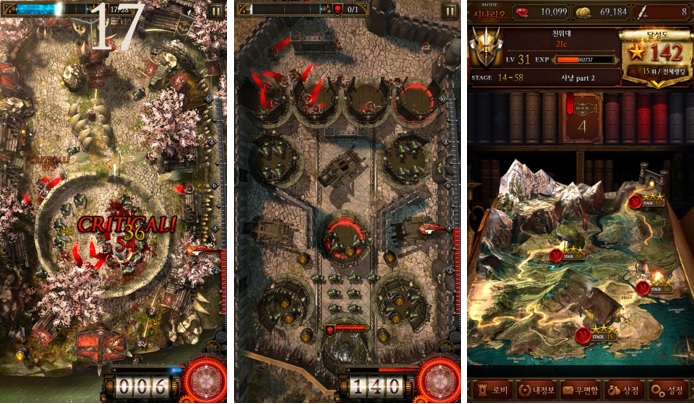 As the game starts, each soldier is launched every second, and the soldiers get into battles by repeatedly colliding with enemies. The key attack strategy is to decide on strength and timing of the power gauge as each soldier is launched. The power gauge features an easy control with one thumb play.
Every stage has a various goal such as killing all enemies, destroying a gigantic boss, destruction of objects, and retreat of allies, and players utilize siege weapons – cannon, flame thrower, large crossbow, explosives, etc. – placed in a stage for different types of play and excitement.
Knights Fall provides two play modes. Scenario Mode follows two main characters, Kiara and Arnault, under a gripping storyline and requires clearing stages one by one. Conquest Mode, on the other hand, features an asynchronous PvP play among players to conquer or lose territories. The Scenario Mode is expected to provide over one hundred stages which provide various types of excitement.
Mr. Hyuk Jung, who is the producer and oversees development of all three games, revealed his motivation for starting the project as he "wanted to realize the visual of an intense battlefield that has not been done previously,  with a simple way to play," and added that "the new game play might look unfamiliar but is surprisingly easy and exciting once you start to play."
Tiny Fall
The second title Tiny Fall features the same game playing as with Knights Fall.  With the expectation that the easy and exciting game play Knights Fall has is enough to appeal to casual gamers, Tiny Fall is dressed with cute and beautiful artworks based on the concepts of Alice in Wonderland, Hansel and Gretel, and other fables which anyone can fall in love with regardless of age and gender.
It's not just the artworks, of course. The level of difficulty is adjusted down for casual gamers, and easier and more exciting play modes will also be added.
Gigant Shock
The third title Gigant Shock(Gigant pronounced as "ghee-gant") is to utilize and strategize four different types of characters in order to attack visually stunning, gigantic monsters.
The game can be considered as an action role-playing game, but the fact that it focuses solely on fighting with gigantic monsters without having to maneuver stages and that it omits the locally popular auto-play feature differentiates itself from the local action role-playing games in Korea.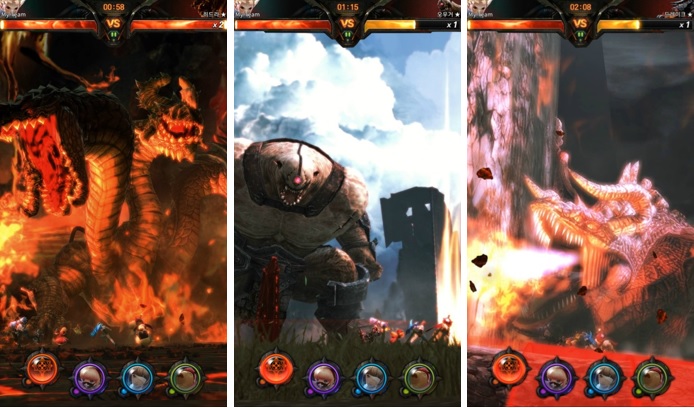 Mr. Jung explains that the auto-play feature "clearly has its advantage in the mobile environment," but he adds that he wanted to realize "the catharsis gamers experience as they attain proficiency in the game play."
The game also feature a real-time co-op play up to three players
I believe many people will be looking out for Gigant Shock. I mean, who doesn't like battling huge ass bosses? I also like the idea of omitting boring auto-battle thrash stages and would like to go straight to fighting bosses. However, from the looks of it, the game might be a battery killer. I have yet to see any games of such intense graphic succeed in the mobile market so hopefully Gigant Shock will surprise me.
I'm actually more excited for Knights Fall as it has a higher potential to be receptive to the public. The game feels like Monster Strike combined with Clash Royal's strategic gameplay. Knights Fall begins its soft launch in April to verify the new approach to playing and plans to officially launch in Korea this fall, with Tiny Fall and Gigant Shock to be followed later. As of now, the company has no decision made for launching in overseas markets, including North America and Europe.
Stay tuned here for all the latest updates!