Alright Dragon Nest Fans, Actoz has finally soft launched Dragon Nest Labyrinth. I'm not exactly sure which countries are included in the soft launch The game is soft launched in the Philippines Google Store but read on for the apk file!
Dragon Nest Labyrinth is an Action RPG game played very similar to it's PC version. Although not exactly a MMORPG anymore, the mobile version still requires players to socialize and make friends so that you can use their characters to tackle those difficult stages. Sadly, the game doesn't have a good story line or plot.
Unlike the PC version where it has 3 difficulty levels, DNL has only Normal and Elite mode for it's exploration stages. Currently, there are 4 chapters in the Exploration mode. There's a PVP mode called the "Dragon's Alter", a Raid mode and the "NEST".
There are 4 different Classes to choose from; Warrior, Archer, Mage and Cleric. You are able to have 1 main class and 2 sub-classes to follow you on your adventure at any one time. Unlike most ARPG mobile games where you either Gacha for characters or equipment boxes, Dragon Nest Labyrinth's cash shop follows closely to the PC version where players will mainly purchase costumes, enhancers or jewels material pouches.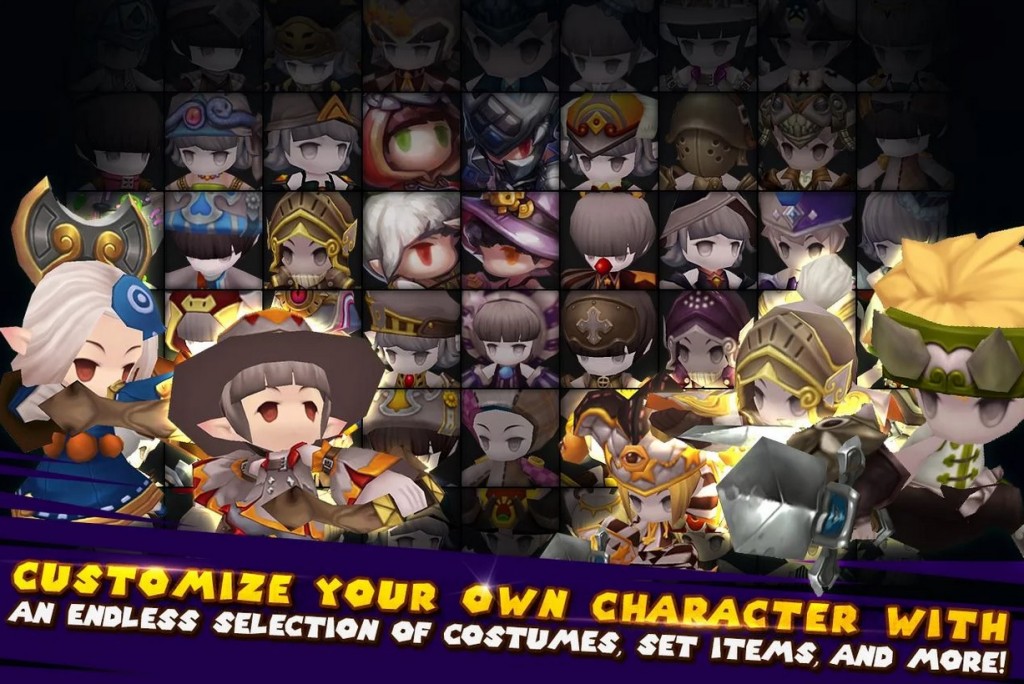 One thing to take note, the game's graphics is actually very good for a mobile game which comes to my next point. Players with older phones or lack of storage space may not be able to play the game.
As I have yet to unlock all the features of the game, here's a description of the game from the Play Store.
Join the adventure to unveil the Dragon Nest!

The fury of Dragon Nest: Labyrinth is now available on your mobile device!

[Detailed Description]
An ancient dragon's legendary treasure lies hidden within the Dragon Nest.
Take off on a journey alongside memorable Heroes and conquer the giant dragon who stands guard!

[Game Characteristics]
Colorful action and familiar graphics
A hack and slash 3D Action-RPG with easy controls and intense animations.
Beautiful and adorable graphics that are unique to Dragon Nest.

[Unique Labyrinths]
A relay party-play battle system that enables you to strategically mix and match different classes.
Personalize your character with costumes and equipment that change your appearance in a special way.
A special Monster Illustration Book system that continually enhances your character's passive skills.

[Vast Content]
Over 40 types of brilliant skills and actions and over 500 types of battle items
A diverse battle system with stages, dragon altars, battle arenas, raids, and giant nest bosses over a multitude of
themes

[Strategic Growth System]
Endless enhancement of various skills, based on character growth, is accompanied by changes in effect and animation.
A growth system that evolves through runes and jewel enhancements.

Proven Action-RPG Dragon Nest: Labyrinth.
Take off on a perilous adventure alongside memorable Heroes!
As I've mentioned above, I'm not sure which countries are included in the soft launch for now. Click on the link below to see if you can download directly from the Playstore. If not, someone has kindly uploaded it's apk file. I will include it in the link below. The game is currently only for Android. The iOS version will release during the game's official global launch.
Publisher
Actoz Soft
Platform
Android Link
Download APK
Language
English