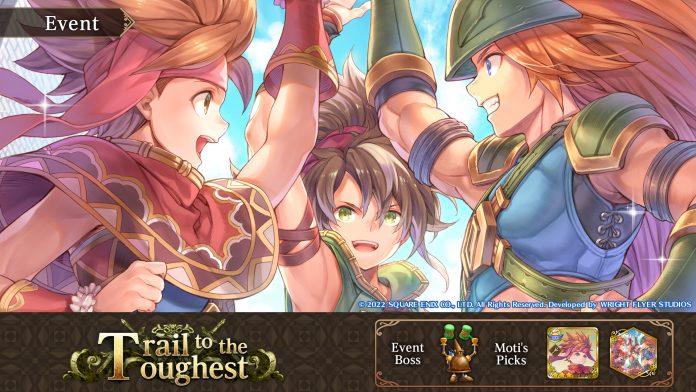 Here are some information on the first Echoes of Mana Event – Trail to the Toughest.
Event Period: April 29, 2022 6:00 (UTC) ~ May 31, 2022 5:59 (UTC)
Pre-requisite: You must have cleared main quest 2-11 in order to play this event.
Event Details:
Clear event quests in "Trail to the Toughest" to get event points (EP and High Level EP) that you can use to trade for rewards at the EP Trader!

You can obtain event points from these event quests!

Searing Stage Hard and Very Hard are co-op quests

 where you can team up with other players!
Boss Tips
The Guardian will start

charging up for a special attack when its HP is low.

But if its special gauge is fully depleted, this boss shuts down briefly.

Your damage is boosted while it's down

so don't miss your chance to pile on the attacks!
Beware though! But if its special gauge isn't depleted, you'll be taking some deep damage from its special attack!
Team up to drain its special gauge and take it down for good!
*Boss does not deal charge attacks in Searing Stage (Normal).
*Boss for Searing Stage (Normal), Searing Stage (Hard), and Searing Stage (Very Hard) has no elemental or weapon-type weaknesses.
EP Trader Rewards
Reward
EP Required
Trades Available
3★ Benevodon Spirit Icon x1
EP x1,000
1
3★ Benevodon Spirit Icon x1
*Added from 6:00 on 5/6 (UTC)
EP x1,000
1
3★ Benevodon Spirit Icon x1
*Added from 6:00 on 5/13 (UTC)
EP x1,000
1
3★ Benevodon Spirit Icon x1
*Added from 6:00 on 5/20 (UTC)
EP x1,000
1
3★ Knitwit Icon x1
EP x600
1
3★ Knitwit Icon x1
EP x600
1
3★ Knitwit Icon x1
EP x600
1
Experience Tome (L) x5
EP x250
10
Echo Bloom x5
EP x200
15
4★ Knitwit Icon x1
High Level EP x1,000
1
4★ Knitwit Icon x1
*Added from 6:00 on 5/6 (UTC)
High Level EP x1,000
1
4★ Knitwit Icon x1
*Added from 6:00 on 5/13 (UTC)
High Level EP x1,000
1
4★ Knitwit Icon x1
*Added from 6:00 on 5/20 (UTC)
High Level EP x1,000
1
3★ Benevodon Spirit Icon x1
High Level EP x1,000
1
3★ Benevodon Spirit Icon x1
High Level EP x1,000
1
Stages (Single Player)
All-Valsena Tournament Begins II
Energy (AP)
7
Reccomended CP
1200×3
Missions
– Achieve Clear Rank: S
– Clear without a single ally fainting
– Clear without more than 1 ally fainting
– Clear Quest missions: All
Clear Rank Times
S<60 sec, A<90 sec, B<120 sec, C≥120 sec
Reward
First clear: 50 EP
EP (~20), Lucre (840 fixed), Coppers, Silvers, Echo
All -Valsena Tournament Begins III
Energy (AP)
7
Reccomended CP
1220×3
Missions
– Achieve Clear Rank: S
– Clear without a single ally fainting
– Clear without more than 1 ally fainting
– Clear Quest missions: All
Clear Rank Times
S<60 sec, A<90 sec, B<120 sec, C≥120 sec
Reward
First clear: 50 EP
EP (~20), Lucre (840 fixed), Coppers, Silvers, Echo
Reason to Fight II
Energy (AP)
12
Reccomended CP
1240×3
Missions
– Achieve Clear Rank: S
– Clear without a single ally fainting
– Clear without more than 1 ally fainting
– Clear Quest missions: All
Clear Rank Times
S<60 sec, A<90 sec, B<120 sec, C≥120 sec
Reward
First clear: 50 EP
EP (~50), Lucre (1440 fixed), Coppers, Silvers, Echo, Alloy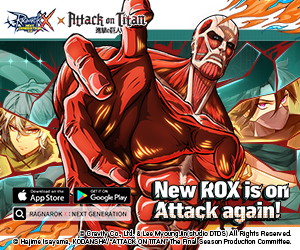 Reason to Fight III
Energy (AP)
12
Reccomended CP
1260×3
Missions
– Achieve Clear Rank: S
– Clear without a single ally fainting
– Clear without more than 1 ally fainting
– Clear Quest missions: All
Clear Rank Times
S<60 sec, A<90 sec, B<120 sec, C≥120 sec
Reward
First clear: 50 EP
EP (~50), Lucre (1440 fixed), Coppers, Silvers, Echo, Alloy
Recollections on the Edge II
Energy (AP)
12
Reccomended CP
1280×3
Missions
– Achieve Clear Rank: S
– Clear without a single ally fainting
– Clear without more than 1 ally fainting
– Clear Quest missions: All
Clear Rank Times
S<60 sec, A<90 sec, B<120 sec, C≥120 sec
Reward
First clear: 50 EP
EP (~50), Lucre (1440 fixed), Coppers, Silvers, Echo, Alloy
Recollections on the Edge III
Energy (AP)
12
Reccomended CP
1300×3
Missions
– Achieve Clear Rank: S
– Clear without a single ally fainting
– Clear without more than 1 ally fainting
– Clear Quest missions: All
Clear Rank Times
S<60 sec, A<90 sec, B<120 sec, C≥120 sec
Reward
First clear: 50 EP
EP (~50), Lucre (1440 fixed), Coppers, Silvers, Echo, Alloy
Searing Stage II
Energy (AP)
12
Reccomended CP
1320×3
Missions
– Achieve Clear Rank: S
– Clear without a single ally fainting
– Clear without more than 1 ally fainting
– Clear Quest missions: All
Clear Rank Times
S<60 sec, A<90 sec, B<120 sec, C≥120 sec
Reward
First clear: 50 EP
EP (~50), Lucre (1440 fixed), Coppers, Silvers, Echo, Alloy
Searing Stage III 
Energy (AP)
12
Reccomended CP
1340×3
Missions
– Achieve Clear Rank: S
– Clear without a single ally fainting
– Clear without more than 1 ally fainting
– Clear Quest missions: All
Clear Rank Times
S<60 sec, A<90 sec, B<120 sec, C≥120 sec
Reward
First clear: 50 EP
EP (~50), Lucre (1440 fixed), Coppers, Silvers, Echo, Alloy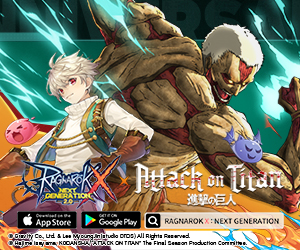 Fierce Finale II (Boss Battle) 
Energy (AP)
12
Reccomended CP
1500×3
Missions
– Achieve Clear Rank: S
– Clear without a single ally fainting
– Clear without more than 1 ally fainting
– Clear Quest missions: All
Clear Rank Times
S<60 sec, A<90 sec, B<120 sec, C≥120 sec
Reward
First clear: 50 EP
EP (~50), Lucre (1440 fixed), Coppers, Silvers, Echo, Alloy
Boss Stages
Searing Stage (Normal) (Single Player)
Energy (AP)
15
Reccomended CP
2500×3
Missions
– Achieve Clear Rank: S
– Clear without a single ally fainting
– Clear without more than 1 ally fainting
– Clear Quest missions: All
Clear Rank Times
S<120 sec, A<150 sec, B<180 sec, C≥180 sec
Reward
First clear: 10 Spirit Crystal
EP (~150), Lucre (1800 fixed), Coppers, Silvers, Echo, Alloy
Searing Stage (Hard) (COOP)
Energy (AP)
18
Reccomended CP
4000×3
Missions
– Achieve Clear Rank: S
– Clear without a single ally fainting
– Clear without more than 1 ally fainting
– Clear Quest missions: All
Clear Rank Times
S<180 sec, A<200 sec, B<220 sec, C≥220 sec
Reward
First clear: 10 Spirit Crystal
EP (~300), Lucre (2160 fixed), Coppers, Silvers, Echo, Alloy
Searing Stage (Very Hard) (COOP)
Energy (AP)
24
Reccomended CP
6000×3
Missions
– Achieve Clear Rank: S
– Clear without a single ally fainting
– Clear without more than 1 ally fainting
– Clear Quest missions: All
Clear Rank Times
S<180 sec, A<200 sec, B<220 sec, C≥220 sec
Reward
First clear: 10 Spirit Crystal
High Level EP (~200), Lucre (2400 fixed), Coppers, Silvers, Echo, Alloy
Boss Tips
This is a DPS race
Have -Thrilling Blade Flash- Duran or -A Sprouting Encounter- Serafina to keep Def Break up at all times
Don't bother if you are not at least 6k CP (unless you main Range), stage requires 24 AP to participate, don't waste everyone's time.
DO NOT stand still and spam attack, always move and keep away from telegraph
Keep spamming the evade button after dishing out 1 set of combos
Bring a healer and LOOKOUT for the team
Save your party skill for Boss's charging attack (~60% HP, ~30% HP, ~10% HP), you can also swap members to release their Specials