Kabam, in collaboration with Disney Interactive and Lucasfilm Ltd., announced the launch of Star Wars™: Uprising, the first mobile role-playing game that takes place between Star Wars™: Return of the Jedi™ and Star Wars™: The Force Awakens, following the death of the Emperor. The game is available now for free on iPhone, iPad, iPod touch and Google Play for Android devices.
Star Wars: Uprising introduces players to the Anoat Sector, where they can band together with smugglers, freedom fighters, bounty hunters and gangsters to rise up against the Empire as it tries to maintain control of the galaxy. They can also create unique characters, go on missions, develop skills, build up their gear, and recruit crew members for sector battles, all in an effort to create their own version of a Star Wars hero. There are 4 different classes to choose from, Zabrak, Miralan, Twi'lek and Human.
The game plays similar to Diablo style ARPG game where players tap to move the characters and tap on enemies to attack them. There are many equipments to collect which will aid players in their quests. Although stats are not randomized, the equipments do have different rarity tiers that players can farm on.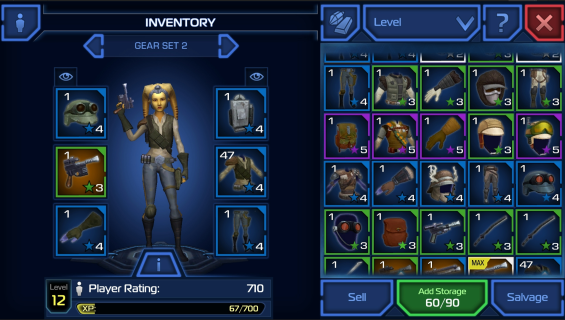 Key features include:
Create the Hero the Galaxy Needs: Choose from a wide range of special skills, species, visual customisations and classic Star Wars gear to become the next Han Solo, Boba Fett or unique hero of your own design.
Shape the Future of the Game Universe: Join players worldwide in massive sector-wide battles to dictate the expansion of in-game content, including new planets, exclusive gear and unique crew members.
Real-Time Co-op Against the Empire: Explore the secrets of the sector, build a powerful crew with allies, and play alongside friends in synchronous cooperative play.
Brave Challenges on Classic and New Worlds: Battle your way through missions on Hoth, Cloud City and more, fighting against powerful bosses led by an ominous new adversary.
Star Wars: Uprising is out now for both iOS and Android users. If you're a Star Wars fan, this is the game for you. In fact, if you call yourself a gamer, Star Wars: Uprising is definitely a must try!
Personal Note: It's better to play the game on a device with bigger screen.
Publisher
Kabam
Platform