Publisher VNG has finally announced the highly-anticipated launch date for their latest Three Kingdoms-inspired Strategy RPG OMG!三国霸王 for Singapore and Malaysia, which will be on June 2nd, 2021, following the previous successful launches in Thailand and Vietnam.
In the meantime, the pre-registration period for the game is still ongoing, with plenty of prizes to be claimed for each pre-registration milestone achieved – from EXP books to level up your warriors, to Silver and Gold coins, and more! – so bring your friends along and sign-up for the game while you still have the chance to win!
Pre-Registration Link: https://event.vng.games/omg3sm/pre-register
Download Link: https://omg3sm.onelink.me/bGF4/facf27
Whether you're the type of gamer who enjoys deep, engaging RPG combat, or just want to collect the multitude of cool and unique characters, OMG!三国霸王 has everything covered with its '5 Pillars' of gameplay, including:
Brains over Brawn!
You will be absolutely surprised because OMG!三国霸王 can bring you to the world of Guan Yu, Lubu, Zhao Yun and all other mystic heroes of the Three Kingdoms. The game offers a satisfying and strategic gameplay experience, challenging players with its unique blend of RPG combat and auto-battle mechanics. Players must form a team of famous warriors – each reimagined with 4 unique abilities and play styles – before arranging them in a 3×3 formation based on each warrior's specialty. Once preparation is done, sit back and watch your carefully-laid plans play out with the game's Auto-battle Feature!
Command Legendary Warriors!
With dozens of heroes to choose from, you'll have no shortage of room to strategize and claim the most rewards possible. Once you reach level 6 in the game, you will also be given 50 free draws on the character gacha, assuring that you'll have a full roster of Warriors to take into battle with you. You can also freely transfer items between your heroes, so feel free to try out as many as you like!
Explore the Fantastical World of the Three Kingdoms
With multiple campaign maps to explore, OMG!三国霸王 places players in the Three Kingdoms era like never before. Aside from the usual campaign missions, players can also complete sidequests, farm for resources, find valuable treasures, or even uncover hidden maps within the campaign.
Enjoy Non-stop Play!
Unlike many strategy games in the market today, OMG!三国霸王 does not feature a timed mechanic that forces players to wait before doing certain actions. Structures are built or upgraded instantly instead of forcing players to wait for hours or even days, so you can jump back out into battle whenever you want!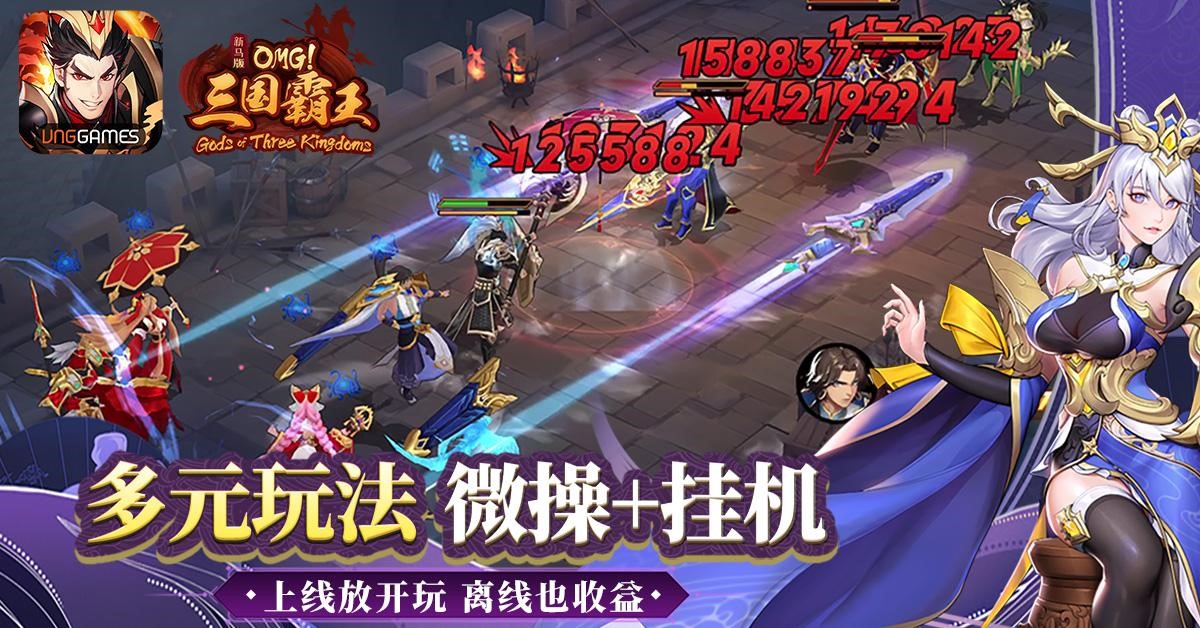 The Spoils of War Await!
OMG!三国霸王 is grateful for the time players spend on the game, and as such aim to give back by offering tons of rewards for simply playing the game! For example, players can earn Golden Ingots (for summoning) through the Main Quest, or even by completing daily tasks.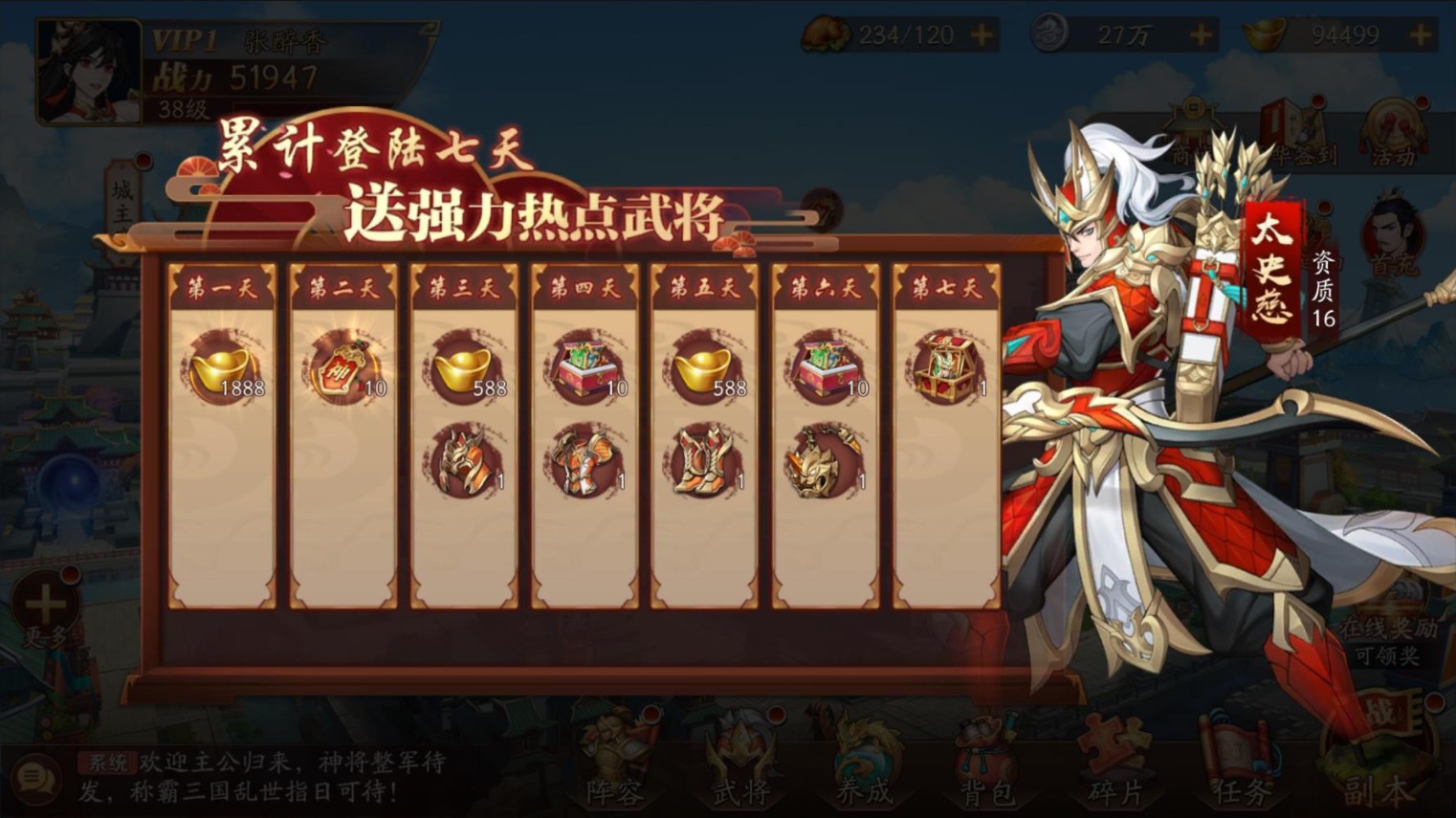 Pre-Registration Rewards
Once you've pre-registered an account on the website, login and complete the event missions to earn Lottery Tickets, which can be redeemed for a chance to win various real-life prizes, including:
ASUS ROG G14 Zephyrus GA401II:
IPhone 12 Promax (256GB)
Galaxy S21 Ultra 5G (256GB)
Nintendo Switch (2021)
However! These aren't the only rewards up for offer! Here are some additional details about the exciting pre-registration milestone in-game rewards players can expect to receive at launch:
You can still pre-register to receive these rewards from now till June 1st, 2021. So sign-up today for your chance to win these awesome prizes, or otherwise just give your account a boost at launch!
Contact Info
For more information about OMG!三国霸王, as well as updates on all the latest activities and events, please visit any of our social media channels via the links below:
Fanpage: https://www.facebook.com/omg3.vnggames
Group: https://www.facebook.com/groups/omg3.vnggames/
Youtube: https://bit.ly/youtubeomg3vng
Website: http://omg3.vnggames.com/
Whatsapp: https://chat.whatsapp.com/FPtDRHcZkVZIZwvP0xndhu
About VNG
VNG Corporation (VNG) is one the largest game publishers based in Vietnam. The company is "Vietnam's first ever unicorn start-up", according to The ASEAN Post. With their experience of 16 years in the Vietnamese games industry, VNG is now seriously taking further steps to "conquer the global arena", starting with SEA's markets.
VNG has published a lot of famous online video games, mostly on mobile platforms, which have millions of players around the world. These titles include swordplay role-playing game Vo Lam Truyen Ky (Sword Heroes Fate Series – available on PC and mobile); survival shooter PUBG Mobile VN, MOBA game League of Legends: Wild Rift (Vietnam), card battle game King of Fighters AllStar (KOF AllStar VNG, published in Vietnam, Thailand, Indonesia, and the Philippines) and more.
VNG's products and services operate in a cutting-edge ecosystem covering four key product groups, focusing on bringing a richer and simpler online experience to your life: online games, platforms, finance and payments, and cloud services.