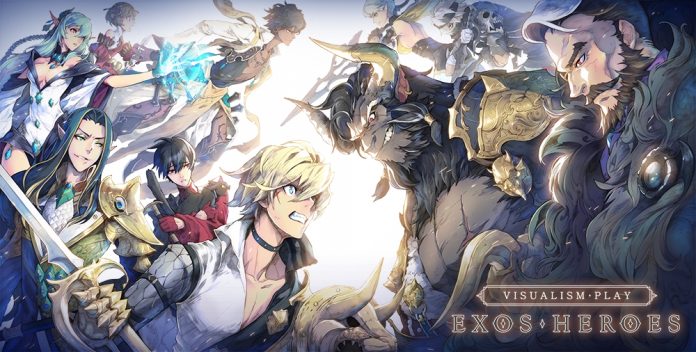 Here's the tier list for Exos Heroes.
Reroll Guide
Firstly… I must say the game is doing everything to deter you from rerolling.
iOS Players – Even if you select Guest Account, you cannot reroll again until 7 days later, thus you will also need to prepare 1930128309128 gmail accounts.
Android Players – You will need to recreate 100000 gmail(S).
Complete all the prologue missions before you can access Summons ~20-30 mins
You will not have enough for 10x Premium Summons therefore, you can either summon 1 at a time (maximum of 6 times) or, complete a few more missions until you get enough gems for 10x ~ 5 mins more

Complete Chapter 1 episode 1 > Pick up Free chest in Kuntara, Pick up all Gems in Diary, Pick up gems from Prologue. You should have 710 gems.

If you are going for the 10x pull route, do it on Rate up Zeon Banner.
Below characters are labeled as Gold (Hero), Black (Fated), Fated (Fated)
To reroll, go Settings > Withdraw > Type DELETE (Must be in CAPS). Login with a new email account or wait 7 days to reroll.
Once you are done with your rerolls, you can now use the Selection Recruit to recruit one of the 3 below:
Suggested Selection Recruit Heroes
Baraka (Physical attack)
Anastasia (Healer)
Bernadette (Magic Attack)
Summon Raids
| | | | | |
| --- | --- | --- | --- | --- |
| Fatecore (Hero) | Hero (Fated) | Hero (Legendary) | Hero (Rare) | Hero (Magic) |
| 1% | 3% | 15% | 30% | 51% |
Tier List
*Names with titles are the "Alternate Universe (Fate core)" version of the character.
** You can get them through Summons, Cash shop and events.
| | | | | | |
| --- | --- | --- | --- | --- | --- |
| Character | Role | PVE | PVP | Boss | Overall |
| Bathory | Attack | SS | SS | SS | SS |
| Descendant of Spirit Bathory | Attack | SSS | SSS | SSS | SSS |
| Rachel | Attack | S | SS | S | S+ |
| Executor of Battlefield Rachel | Attack | SS | SSS | SS | SS+ |
| Garff | Defense | B | A | SS | S |
| The White Warlord Garff | Defense | S | SS | SSS | SS+ |
| Jinai | Chaos | B | B | S | A+ |
| Shufraken | Defense | B | S | B | A |
| Dragon Emperor Shufraken | Defense | A | SSS | B | S+ |
| Rudly | Attack | C | C | D | C |
| Vegabond Swordsman Rudley | Attack | SS | SSS | SSS | SSS |
| Jinn | Chaos | B | A | B | B |
| Soft Silver Hair Jinn | Chaos | B | A | B | A |
| Xiakhan | Defense | D | D | F | D |
| Blue Dragon's Descent Xiakhan | Defense | C | B | E | C |
| Rera | Chaos | B | B | C | B |
| Valentina | Chaos | E | E | S | A |
| Baraka | Chaos | A | SS | S | S+ |
| King of Wasted Red Baraka | Chaos | A | SS | S | S+ |
| Black Moon Baraka | Chaos | A+ | SS | S | S+ |
| Bernadette | Attack | SS | S | SS | S+ |
| Anastasia | Support | S | A | A | A+ |
| Ignite Anastasia | Support | SS | SS | SS | SS |
| Bernavas | Defense | B | A | E | B |
| Grey Light Princess | Defense | B | B | E | B |
| Sabrina | Attack | A | B | C | B |
| Chati | Defense | C | E | S | A |
| Emma | Support | E | F | S | C+ |
| Saint West's Second Queen | Support | D | E | S | B |
| Talia | Support | A | C | A | B+ |
| Uloom | Defense | A | B | S | B+ |
| Golden-Eyed Ogre Uloom | Defense | A | A | SS | S |
| Magi | Attack | A | C | C | B |
| Jude Turner Magi | Attack | S | A | A | A |
| Ramge | Support | C | C | S | C+ |
| Heir to the Throne Ramge | Support | B | S | S | S |
| Baileysh | Chaos | C | E | B | C+ |
| Rothbrok Baileysh | Chaos | S | C | A | A |
| Valarr | Defense | E | E | B | C |
| Knight of Black Sword Valarr | Defense | C | A | B | B+ |
| Mahar | Defense | D | E | E | E |
| Eastern Monarchy Mahar | Defense | C | C | C | C |
| Shell | Support | E | F | D | D |
| Rood Zeon | Attack | SSS | SSS | SSS | SSS |
| Dignified Tantalo | Defense | A | B | A | A |
| Wandering Flamemaster Annie | Attack | S | SS | A | S |
*This list is based on a mixture of tier lists from Korean server