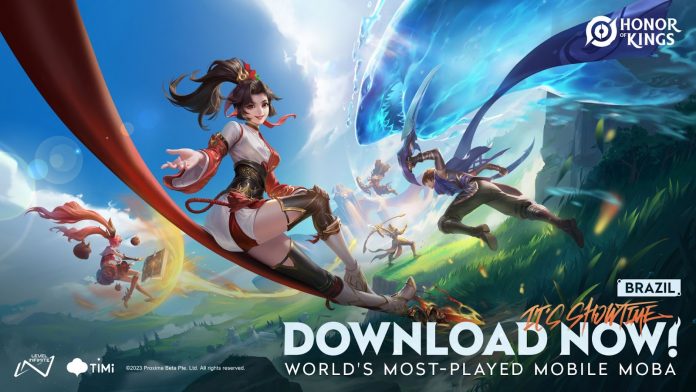 Level Infinite and TiMi Studio Group announced that Honor of Kings has been officially launched in Brazil today. Brazilian players are now able to download Honor of Kings from the App Store, Google Play, and Samsung Galaxy Store to experience the world's most-played mobile MOBA and team up with friends.
Honor of Kings is a 5v5 mobile MOBA designed from the ground up to deliver the ultimate competitive experience on mobile for all players. The game offers an intense, fast-paced and high-quality MOBA experience without sacrificing strategic battles and fierce teamfights. In Honor of Kings, everyone, regardless of the role and Hero they select, plays an important part during the battles and contributes to carry their team to victory.
Right from launch, Brazilian players can enjoy a fully localized experience, with all text, UI, plus voiceover for all Heroes and their skins in Brazilian Portuguese. Furthermore, prominent voice actors well-known for voicing iconic characters lent their talent to Honor of Kings. These include Wendel Bezerra, best known for his role as Goku from Dragon Ball Z, voicing Wukong in Honor of Kings; Kacau Gomes, the actress who dubbed Disney's Mulan, taking on the role of Honor of Kings' heroine Mulan; and Letícia Quinto, who voiced Saori Kido in the Saint Seiya anime, voicing the heroine Athena in the game. By bringing voices that are well recognized by Brazilian fans, Level Infinite and TiMi aim to show their appreciation of Brazilian culture and better immerse fans in the world of Honor of Kings.
At launch, players will have access to all game modes, such as 5v5 Matchmaking, 5v5 Quick Mode, 5v5 Ranked Match, 1v1 Solo Mode, plus a brand new Casual Mode, the Infinite Brawl, where buffs are randomly given to Heroes to provide an even more fun and fast-paced competitive experience. Players will be able to choose from a selection of nearly 60 unique Heroes, each with their own signature skills to unleash, stunning skins to unlock, and legendary stories to explore. More Heroes will be added to the roster regularly. In addition, Heroes have been given nicknames to help local players better understand the Heroes and their impact in battles, and the development team is looking out for feedback and suggestions from fans on this.
To celebrate the launch, Level Infinite and TiMi Studio Group are kicking off a series of events giving away tons of rewards to Brazilian fans. These include the Honor of Kings LOTERIA DE R$ 1.000.000, which has already started on March 7 and lasts till March 26, featuring a R$ 1.000.000 value prize pool to reward fans, including the chance to win a Jeep Compass car, Honda motorcycles, and a myriad of other prizes including in-game and out-game rewards. Fans can now join the event together with their friends via their mobile devices by accessing the event page.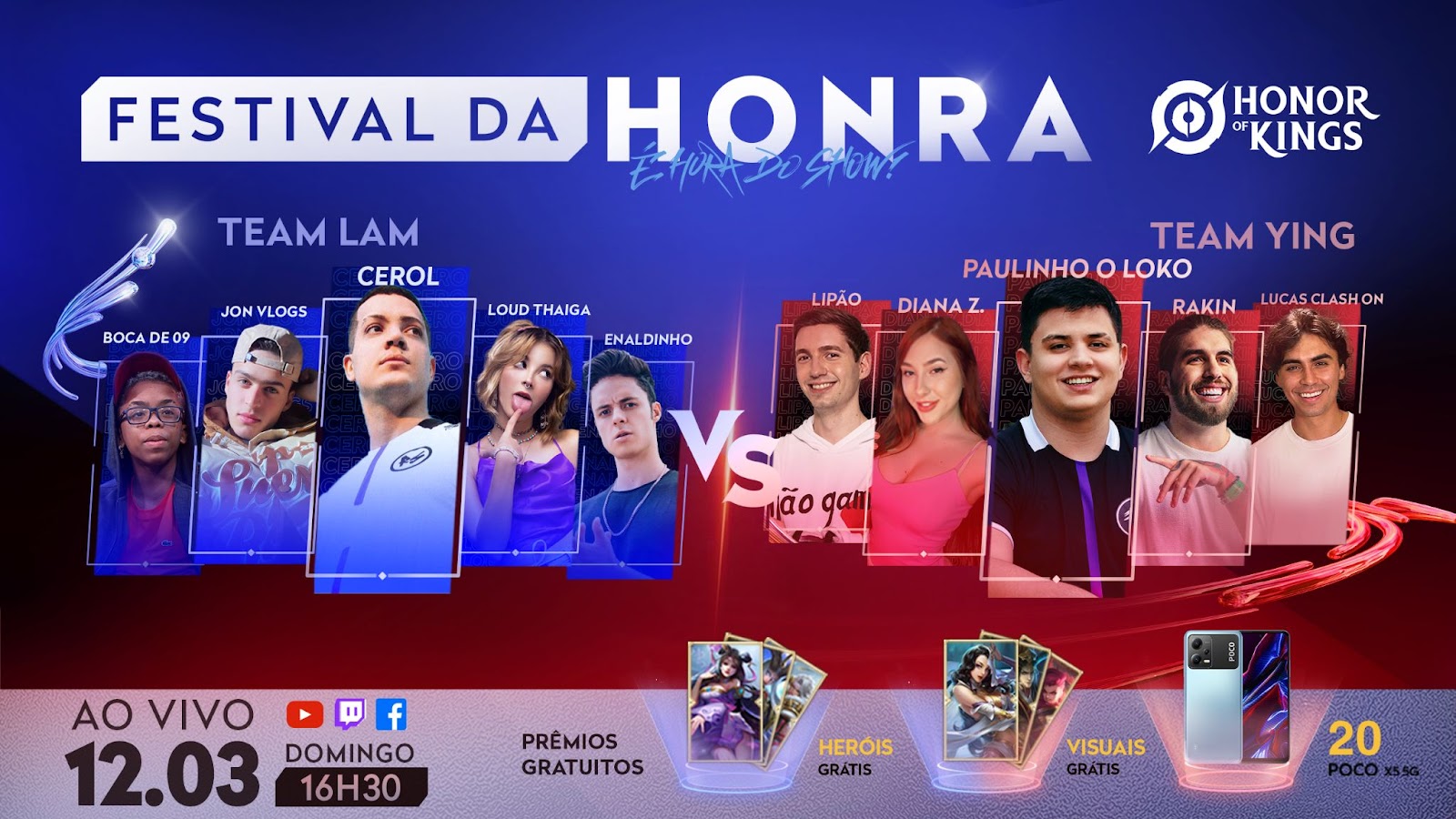 The Honor of Kings Festival da Honra is taking place on March 12 with livestreams on YouTube, Twitch and Facebook. Influencers from various competitive scenes in Brazil, including Paulinho O Loko, Cerol, Enaldinho, Lipão, Boca de 09, Jon Vlogs, Rakin, LOUD_Thaiga, Diana Zambrozuski, and Lucas Clash ON, will be split into two teams to participate in epic 5v5 battles. Plenty of rewards, including POCO X5 smartphones, in-game permanent Heroes and skins and many more will be given out during the livestream. Mark your calendar and celebrate the launch with us!