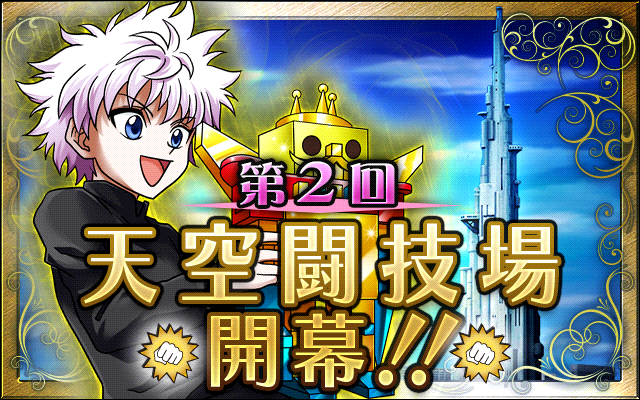 So after almost a day of no HxH, the game is back with sky arena 2! This time, 10 more levels are added to the top of the arena.
Unlike Arena 1 where there's only 1 character card to collect, Sky Arena 2 allows you to collect 3 different character cards. The best card, Killua, you can get it at level 50 and 110, level  70 for Hisoka, while you can get a new Wing card, spread out among various levels. Also, you're able to acquire different upgrade jewels and Gems in this event.
I'm looking forward to see which of our English HxH Veterans will manage climb to the top first.
The new patch includes a few tweaks in the AI and the interaction with the enemies. Also, due to the extended maintenance, they have compensated players with 17 gems.
So here's how it goes:
The rules are simple. First person to post a screenshot of you reaching level 110 and showing the 2 Killua cards will win. Please post your screenshot on the comments below. 
From now till the end of the event (5th Nov 2014), the first person who manage to hit level 110 and acquire the 2 Killua Card will get a Japanese Google play gift card or iTunes card.
I'll be sponsoring 1000 Yen as the base amount for the prize pool. Additionally, what ever amount of money collected from ads on this page only, will be added to the pool. Closing date will be 1 day after the event ends. It'll be great if everyone spreads the news so that not only the prize will increase, but most importantly, I hope we can get more people to be interested in the game!
I know this may not be a lot but I hope, we'll see the hunter community grow and in future, I hope I'll be able to afford better giveaways!
Go climb the ladder guys!
Note: In the event where nobody manages to climb all the way to the top, the person who reach the highest floor, will win the prize. Please remember to take a screenshot of your results on the last day of the event which is the 5th of Nov 2014.
Also, if you're interested in donating and increasing the prize pool, please feel free to drop me a email. Let's grow Hunters!
Extra Prize Pool : + 282 Yen (US $2.60) Updated 29/10/2014