After more than a month's wait, Blastoise is finally available on Pokemon Unite. Here's a quick look on today's Patch.
In today's Patch 1.1.17, it's mainly the addition of Blastoise and its costume. There's the usual Bug Fix and Text Fix however, the game doesn't tell us specially what were being fixed.
Blastoise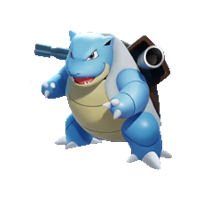 Let's start with the good news! Blastoise is a Defender type Pokemon and it's available for only 8000 Aeos Coins. I've managed to squeeze 2 games with Blastoise and here are my first impressions.
You can build Blastoise as a SP Attacker/Defender hybrid rather than a pure Defender such as Snorlax or Crustle. This is because Blastoise can do quite a decent amount of damage with his skills. Its Endurance is only 3.5 stars compared to the other Defenders with at least 4 stars.
He is pretty squishy pre-level 7 thus you will need to focus on leveling up especially before the first Drednaw fight.
Hydro Pump + Surf is the easier build to master and also a very good combo for pushing enemies around especially in a hectic teamfight. Use this to reposition the enemies, allowing your allies to quickly focus on taking down the remainders.
The Unite Move for Blastoise can easily turn the tide of the teamfight as it does a ridiculous amount of damage in an area. Follow up with your Surf or Hydro Pump to clean up whoever's not dead.
Suggested Items for now – Buddy Barrier, Focus Band, Wise Glasses