Good news people! Our friends at IGG has given me some gift codes for you hardcore Players at Lords Mobile! The code will get you $30 USD worth of items so even if you're a new player, it'll definitely help quickly buildup you empire.
Lords Mobile is a real-time-strategy mobile MMO game nominated as Google Play's "Most Competitive Game of 2016.
Explore exotic magical lands thrown into chaos by terrifying monsters and powerful enemies. Choose your favorite heroes, make new friends, and charge fearlessly into war! Strike down your foes and build an empire!
Battle in a world of chaos in Lords Mobile, the latest real-time strategy game from IGG. Build up your empire, collect exotic Heroes, train your troops, and battle your way to the top! Even in this dog-eat-dog world, you might find allies within a Guild. Destroy all who stand in your way to total domination! The world is yours for the taking in Lords Mobile!
FEATURES
Lords Mobile Key Features:
The game features large-scale siege wars and RPG-style hero battles where players take on dungeons and unleash hero skills to progress your hero skill trees and gain new equipment. Slay monsters across the world map or scout out and attack other players for their resources. Join a guild and take up arms against your foes as a group, capturing resources and bases across the map as a team for special rewards.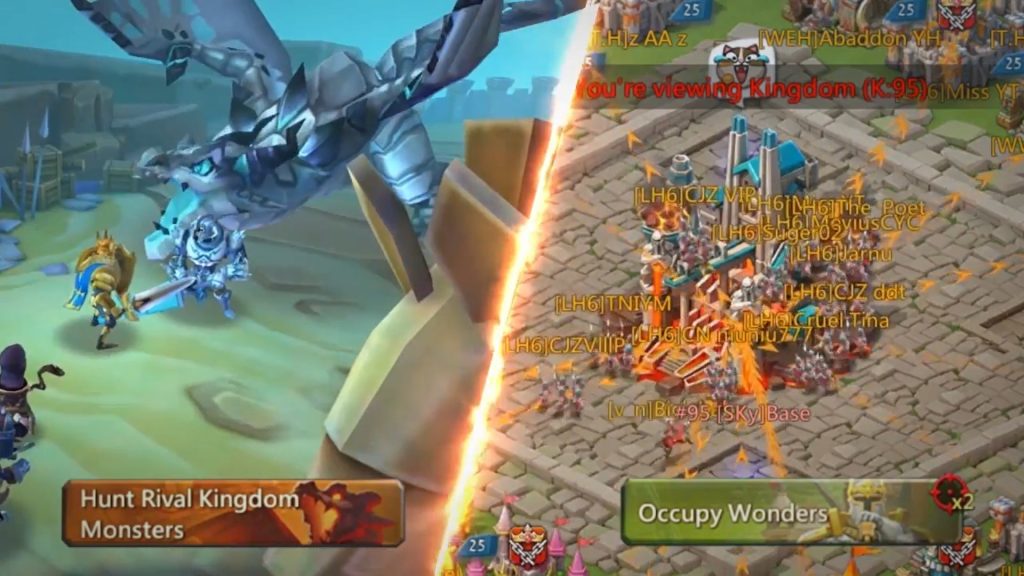 BUILD YOUR EMPIRE
Lords Mobile is a unique game which involves real time multiplayer strategy along with RPG elements which causes you to get immersed in the gameplay and keep playing the game for hours on end. Like any strategy game, the main objective is to build the ultimate empire with the most powerful heroes and awe-inspiring army. What makes this game interactive is the intuitive online multiplayer user interface and strongly established online community. Join the strongest guild in the Kingdom or establish your own guild and earn your way to the top tiers. Whatever you choose to do, Lords Mobile offers you the chance for total world domination and a super fun outlet to all the stress of your day.
PLAY WITH YOUR FRIENDS
Lords Mobile incorporates many features which makes it stand out from other strategy games on the Play Store. Not only will you build your ultimate empire, you can also fight Player vs Player (PVP) battles with your friends or simply anyone you choose to shower your wrath upon. The ability to spy on your enemies is a brand new feature for any mobile strategy game and makes the gameplay all the more interesting as you gain the upper hand or try to avoid being spied upon delivering a true to life battle experience right in the palm of your hand.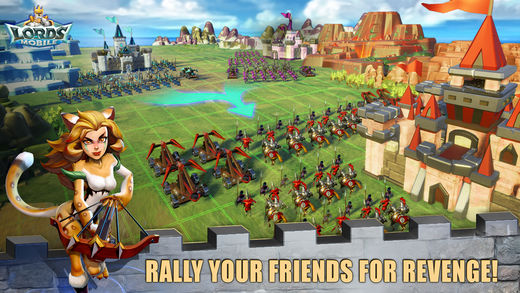 FIGHT AGAINST MONSTERS
Fighting human enemies is boring you say; Lords Mobile has a cure for that as well. Hundreds of mini games provide you the chance to participate in epic battles with Monsters and fascinating creatures. Slay these monsters roaming on the world map to discover rare new treasures and make your empire even more powerful. Don't like the heroes that your enemy has? Capture the hero and make your enemy pay for their release! Now that's a pleasure you will not have playing other strategy games. Upgrade your buildings, perform researching in order to improve technologies and complete all the quests to make your guild and empire into the strongest that has ever existed in your virtual Kingdom.
FREE UP SPACE
Lords Mobile offers gameplay in stunning HD graphics and the large size of the app is a small price to pay for hours of visual pleasure. The size of the installation file is 252MB and additional content will be downloaded as you progress through the game so ensure that you have enough space, because playing this game is one experience you do not want to miss at any cost.Variety of Units – train soldiers in your barracks, upgrading your barracks and researching new units over time to access more powerful units in higher tiers for use in wars.
Giveaway
As I've mentioned earlier, our friends at IGG has given me some codes (20) for giveaway. Each code consists of the following items:
| | | |
| --- | --- | --- |
| No. | Item | Amount |
| 1 | Gather Boost (100%) (24H) | 1 |
| 2 | 25% Player Exp Boost | 1 |
| 3 | [Common]Hero chest | 50 |
| 4 | Quest Scroll (Guild) | 5 |
| 5 | Quest Scroll (Admon) | 5 |
| 6 | 100 VIP Point | 2 |
| 7 | Speed Up (10 min) | 20 |
| 8 | Speed Up research (10 min) | 20 |
| 9 | Speed Up Training (10 min) | 20 |
| 10 | Build Boost (10 %) | 1 |
| 11 | Research Boost (10%) | 1 |
| 12 | Trainning Boost (10%) | 1 |
| 13 | Shield (8h) | 3 |
| 14 | Braveheart | 1 |
| 15 | Gryphon Chest | 20 |
| 16 | [Rare]Material Chest | 20 |
| 17 | Noceros Chest | 20 |
Code for Singapore and Malaysia Players only*
Here's how to get your gift:
1. Enter your email below and the system will automatically send you the code.
2. Head to http://lordsmobile.igg.com/event/my/cdkey
3. Key in IGG ID
*To get IGG ID, open Lords Mobile game, go to "Setting", tap pn  "Account" to view IGG ID
4. Key in gift code
5. When success, all the item will appear in your in-game "Bag"
Note:
There are only 20 keys so grab them fast.
Each account can only redeem once thus there's no point getting multiple codes.
Please use the download link below to download the game!
Publisher
IGG